In the final edition of ADP Risers/Fallers, I'm a buyer. I'm buying a lot. I feel like Jerry Jones (save for Zeke). The fantasy community has done a nice job of analyzing news stories and making appropriate adjustments to their draft boards.
But, as always, there are some things that the fantasy community seems to really like that I'm just not feeling. I'll share these with you in the hope that during your drafts, most just DAYS away (!!!), you follow along and avoid some guys that shouldn't have risen as well as scoop up some guys that didn't deserve to fall.
All graphs courtesy of Fantasy Football Calculator (1/2 PPR).
Risers
Sony Michel
The Patriots running back seems to have successfully fended off Damien Harris and is the definitive starter in the backfield.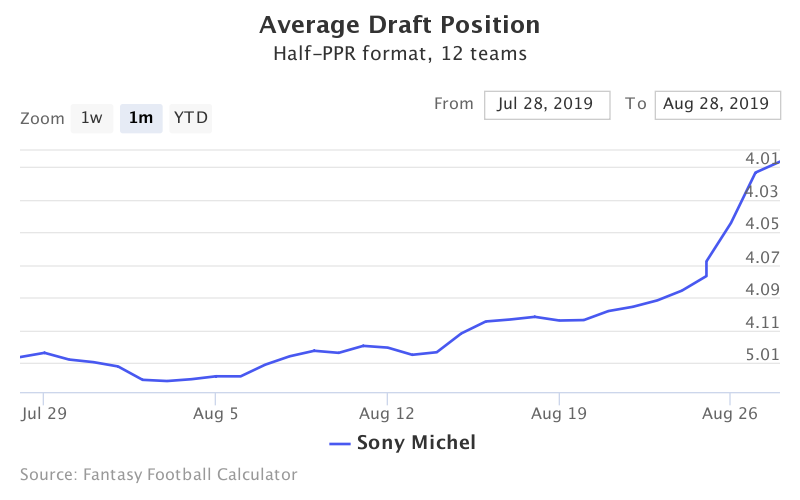 Buy/Sell ADP Rise: BUY
Damien Harris's time should eventually come, but it shouldn't be this year nor does it have to be. Sony Michel performed just fine last year, and he should feature once again as the guy that Belichick leans on throughout the season. Until he fumbles, like once, and Belichick puts him in his dark abyss of a doghouse. But until then, trust in Michel and handcuff him with Harris with one of your very last picks in the draft. The Patriots ran the ball third-most in the league last year, and you'll want in on that action, especially if there's really only one guy leading the pack.
Derrius Guice
Guice looked very good in his NFL debut, converting some carries into nice gains in the ground with good burst.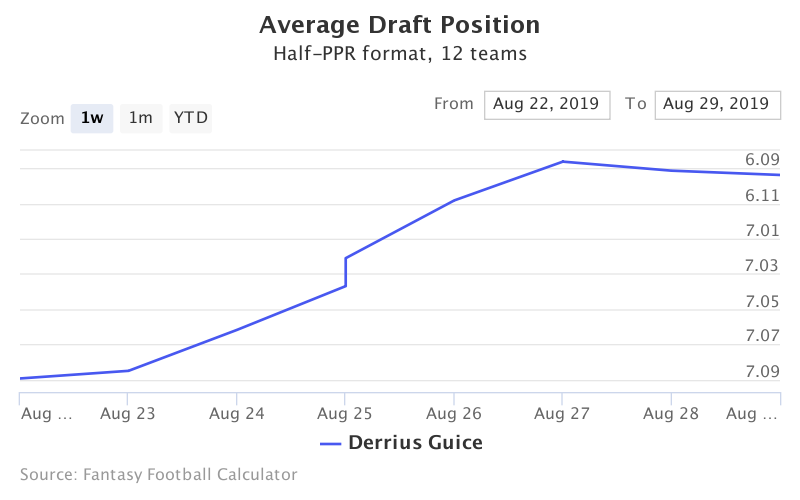 Buy/Sell ADP Rise: BUY
Adrian Peterson is still there, and he's still good (he ran for over 1,000 yards last year), but I fully expect Guice to take over. The way he ran this week looked really energetic, and he just seemed hard to bring down. The Redskins need some form of excitement in a season that will otherwise be an uninspiring campaign. Even with Trent Williams out, the o-line is still a strong one, and the Redskins should lean on the run.
Darwin Thompson
After murmurs of a committee-approach, the leap-frogging of Carlos Hyde in the depth chart, and the absence of Damien Williams throughout the majority of the preseason, Darwin Thompson has gained a lot of fantasy attention and has shot up the draft boards.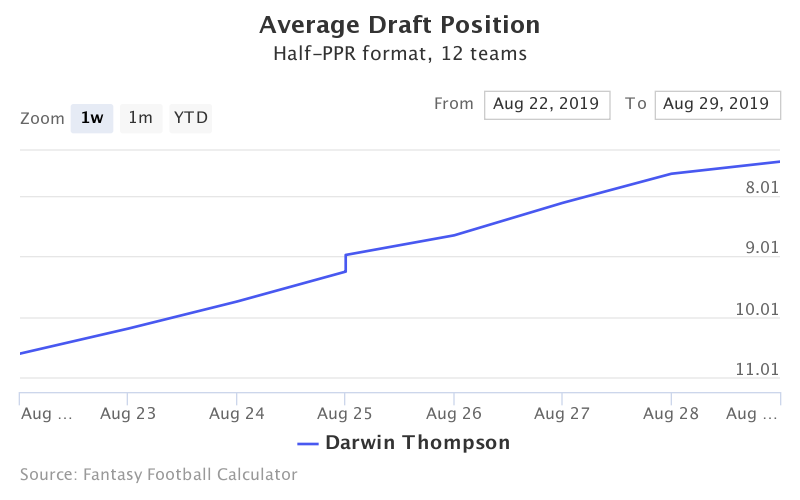 Buy/Sell ADP Rise: BUY
He's still going at a reasonably low price range in a round where you can start to take more risks with your starting lineup settled. If you draft Damien Williams, backing him up with Thompson is almost a must. Besides, I've continually referred to the conveyor belt of running backs that have gone through Kansas City and have been fantasy-relevant… Thompson may just be the next one in line.
Fallers
Melvin Gordon
It's starting to get boring talking about Gordon's situation every week, but every week he falls notably lower and lower and lower.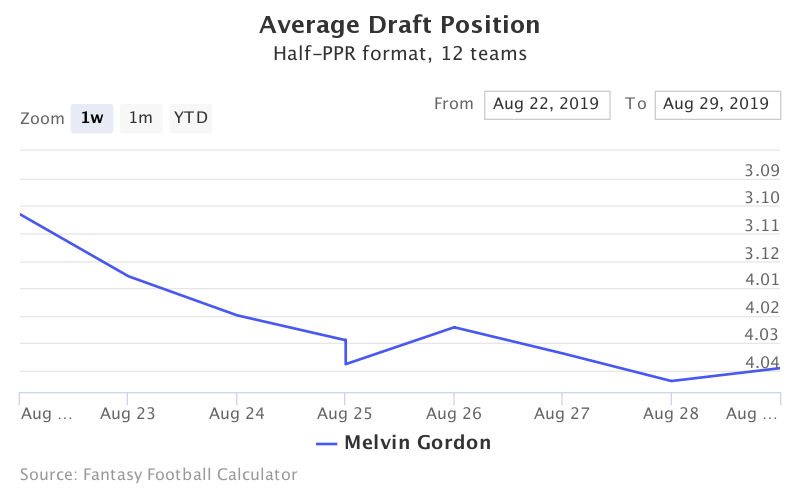 Buy/Sell ADP Drop:BUY
There is no reason to invest a fourth-round pick in someone that doesn't appear to be anywhere close to taking the field. It doesn't seem like it's going to be with the Chargers, and Austin Ekeler's draft stock seems to reflect that. It's all about who will be willing to pay the steadfast back, and for now, it doesn't look like there are any buyers.
Vance McDonald 
After reports came out that McDonald wouldn't inherit a larger role on the field this season despite the departure of Antonio Brown and Jesse James, McDonald's stock took a hit.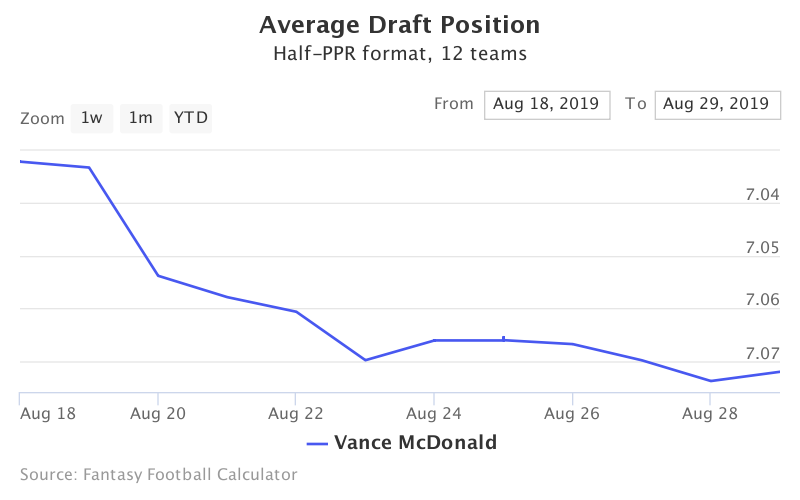 Buy/Sell ADP Drop: SELL
Just because his role won't literally increase — AKA he'll play a similar amount of snaps per game — it doesn't mean that the ball won't find his hands more often due to the hefty load of targets that need distributing. McDonald should still improve on his numbers from last year, which were numbers that made him a low-end TE1, and he's a safer guy than a lot of the other tight ends being drafted around him.
Christian Kirk
After a lot of initial hype, the Cardinals offense has become pretty underwhelming as of late. Kyler Murray was all over the place in his final preseason appearances, and as a result, the guy who is due to become his No. 1 receiver took a hit on the draft boards.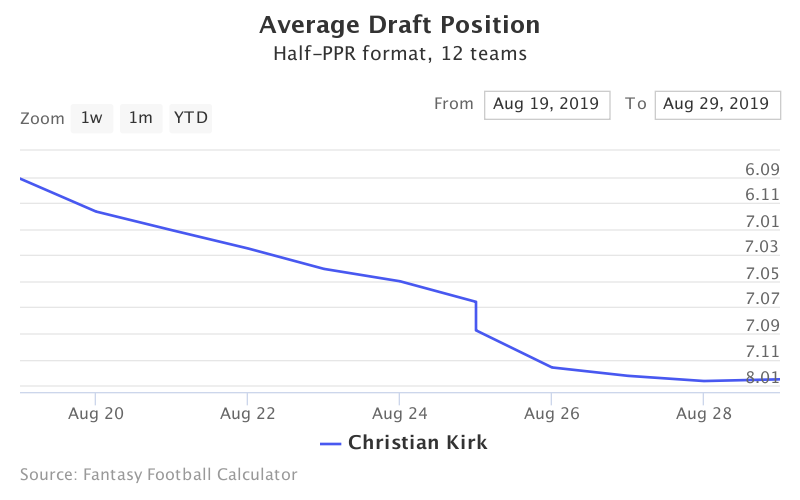 Buy/Sell ADP Drop: BUY
I think that this is the area where Kirk should have been taken all along. He's in a completely unproven offense run by an unproven quarterback and an unproven head coach. And though he had some solid numbers last season, it was a small showing, and there are a lot of wide receivers looking for a shot in Arizona, including Andy Isabella and hopeful-bounceback Michael Crabtree. Kirk is a solid pick here in the late seventh round, but he wasn't as a sixth rounder.
Team Trends
The Entire Colts Offense (Mack, Hilton, Ebron)
I could make so many "bad luck" puns, but you get the point. Enter the Brissett Era and look at the fantasy consequences. See that little cliff in the graph right there? It's like art how everything fell all at once.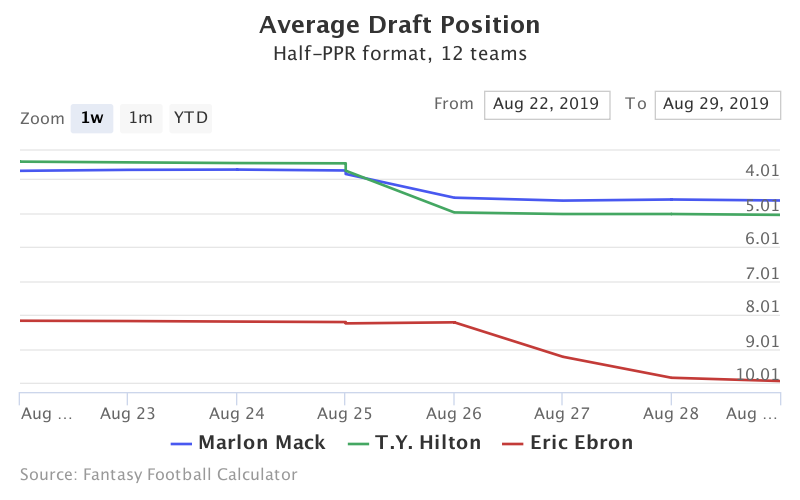 Buy/Sell Team Trend: BUY
You just can't put your trust in an offense run by a perennial backup quarterback. Until I get more proof that the Colts can successfully run their offense under Brissett, I'm staying away from Colts entirely. I felt that Mack was a trap pick coming into the year anyway, and Ebron was never going to repeat what he did last year, so Hilton was the only person that legitimately took a big hit for me.
Pittsburgh Wide Receivers (Moncrief, Washington)
Donte Moncrief has appeared pretty meh so far in the preseason despite initial positive reviews. James Washington, on the other hand, has had a big play in every preseason game, and is much younger than Moncrief.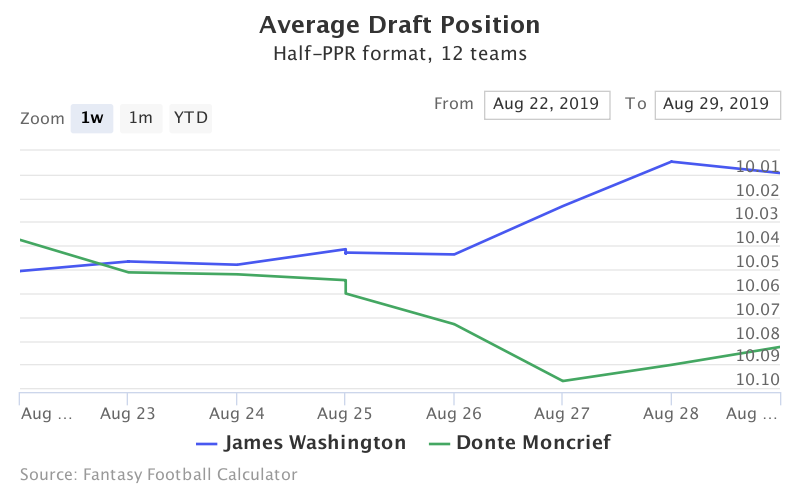 Buy/Sell Team Trend: BUY
Makes sense to me that the two receivers swapped places. You're drafting one of them to become JuJu's backup, and Washington offers more upside than Moncrief. It doesn't help that Moncrief is struggling with drops and fumbles during the preseason while Washington is exploding for long gains, and the Steelers coaching staff is more than likely taking notice. Washington will thus probably get more reps, meaning more opportunity in a pass-heavy offense.
Follow me on Twitter (@jordancohn2) for fantasy football and basketball updates!