W
hat has been the most exciting story of the offseason: Antonio Brown's never-ending list of excuses, or the Zeke-Jerry Jones banter? The answer… neither. The correct response is Baker Mayfield absolutely roasting Daniel Jones, saying he "could not believe the Giants took Daniel Jones," before getting defensive and claiming he meant none of it. It's news like this that gets the attention of most football fans… but neither Baker Mayfield nor Daniel Jones are going anywhere on fantasy draft boards after this event. So how do you know which preseason events do spur change in fantasy football? And how do you know whether or not to buy into these shifts? 
Look no further. Here is this week's edition of ADP Risers/Fallers.
Risers
Curtis Samuel
Raving reviews from training camp mean that the third-year receiver is rocketing up draft boards. He's gone up 14 spots in the past week, and 42 in the past month. 42 spots!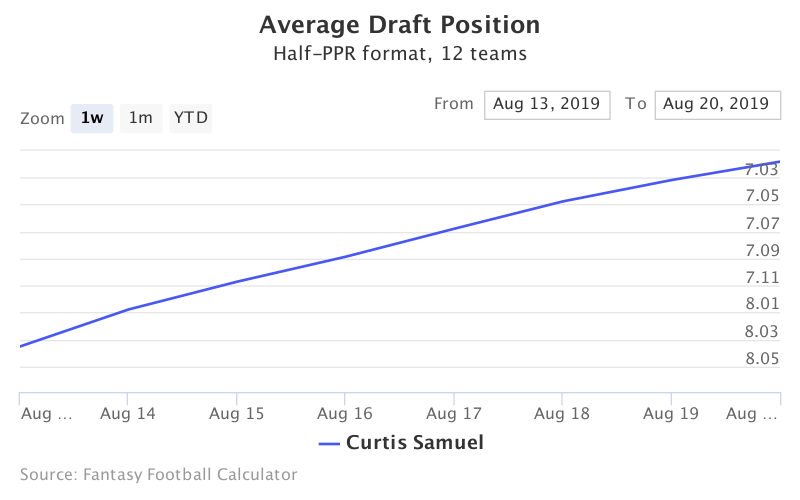 Buy/Sell ADP Rise: BUY… to an extent
DJ Moore is still being selected higher, in the late-fifth or early-sixth round. So for both of these guys to perform at that level, it means that Cam Newton is going to have to sling that ball around often. This might be something that he does, but the bulk of those targets will likely go to the running back, Christian McCaffrey. There have been six 1,000 yard receivers while Cam Newton has been QB in Carolina — three times it was Greg Olsen, twice Steve Smith, and once Kelvin Benjamin. And only once has it happened in the same season (2014 with Olsen and Benjamin), and McCaffrey wasn't there to hound the targets. Thus, I can't realistically see two stud receivers in Carolina entering the 2019 campaign.
Carson Wentz
All aboard the Wentz Wagon! The injury-plagued signal-caller saw his stock rise pretty significantly in the past week, as his practices continued to go well. From all reports his chemistry with DeSean Jackson is crazy good. Like crazy good. And he already has a relationship with a bunch of his other weapons out there. And so he rises.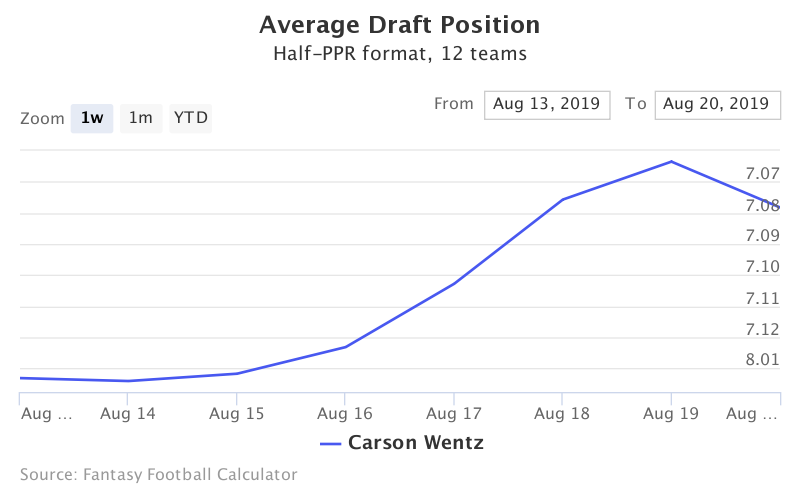 Buy/Sell ADP Rise: BUY
MVP candidates probably should be drafted comfortably as the sixth quarterback off the board. Wentz is a special case because of his extensive injury history. But taking him after five quarterbacks who he could very realistically outplay is worth the gamble in round seven. Of course, I'm going against my long-running philosophy of waiting at QB. But MVP-type stats present a different story, and guys like 2018 Mahomes and 2015 Cam Newton led a lot of fantasy teams to success.
Josh Gordon
He's back. For now. Gordon has been conditionally reinstated into the league and will be good to go for the start of the regular season barring any issues. He jumped up a lot… I mean just look at the graph.
Buy/Sell ADP Rise: BUY
I mean you have to, right? He's so insanely talented. Last time he missed action due to suspension, he exploded back onto the scene as if he hadn't missed a step. There's always the chance he indulges in his bad habits again, and so there is undeniable risk in this pick. But it's Josh Gordon. On the Patriots. It worked last year, and with no Gronk (for now??), Gordon has a top-10 ceiling. This is something you can't pass up in round eight/nine, and his ADP won't stay here for long.
Lamar Jackson
A quarterback throwing the ball is like an NBA guard shooting the ball. It kind of has to be a part of their skill set in order for them to achieve success. If Ben Simmons could shoot (*sigh*) he might become a complete guard. But there's better fortune in Baltimore. It seems that Lamar Jackson has polished his arm to complement his legs and might just be a complete quarterback. His ADP has gone up nine spots in the past seven days.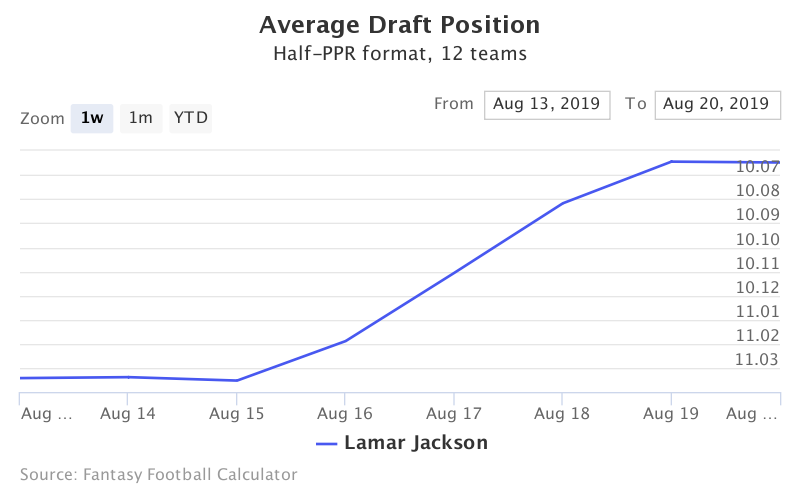 Buy/Sell ADP Rise: BUY
He has looked good in preseason action, and had a crazy run — unfortunately, it was called back due to a penalty — that showcased why his running ability is still the most dangerous thing about his game. If he can be a reliable passer in addition to having Michael Vick-like legs, he could be… well, Michael Vick. It's worth a shot drafting him and backing him up with a more traditional QB.
Fallers
Melvin Gordon
Yes, the Gordon ADP drop is nothing new. But the facts that a) he was a mid-to-late first round pick just a month ago and b) he's still dropping are pretty significant and mean that his situation should be monitored. A recent development shows that Gordon is just waiting for the Chargers to reach out with an offer.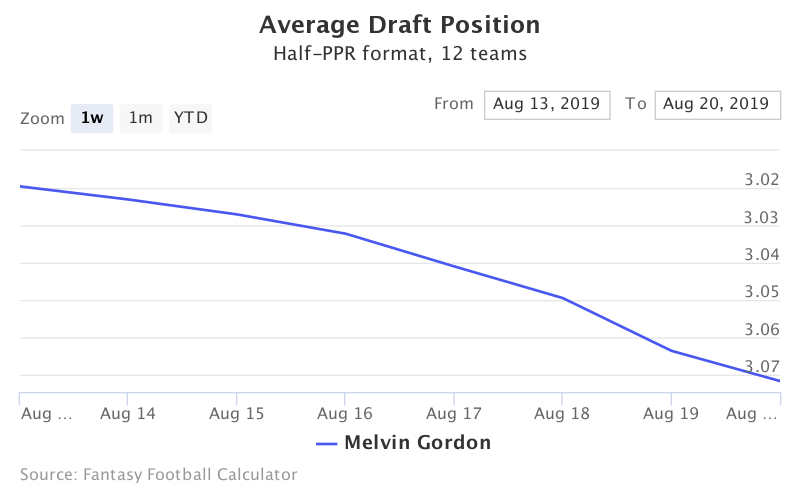 Buy/Sell Continued ADP Drop: SELL
This is a really, really, really tough call. If you had Le'Veon Bell last season, there's no way you'll agree with me. But the middle of the third-round, though still very early, is just barely acceptable enough for me to take the risk and take Gordon. If your draft was right now and you were faced with this pick, would you take Gordon. I don't think I'd be able to resist, especially given the dropoff in RB talent that occurs after the second round. Thus, I'm selling because I think his stock has dropped just a bit too far.
T.Y. Hilton
As is the case with several fantasy busts, the problem is out of their control. For poor T.Y., it's possible that his Luck has run out (sorry about that one). Andrew Luck has been sidelined the entire preseason, and the formerly optimistic quarterback seems more and more destined for a sideline spot to start the regular season.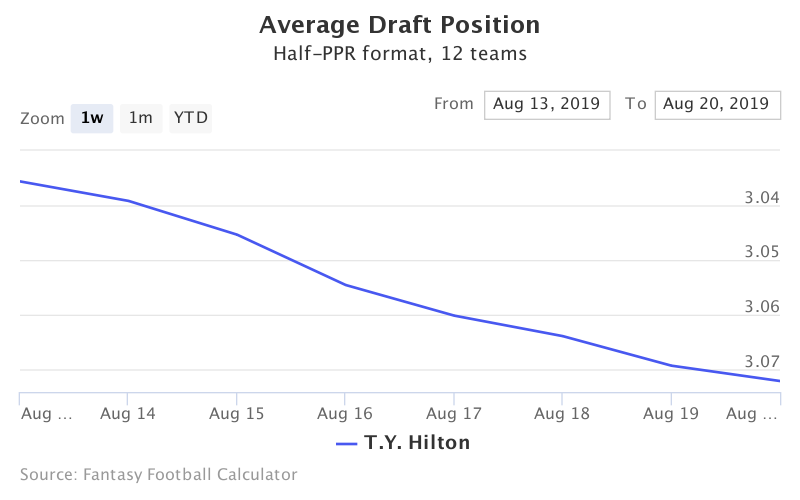 Buy/Sell ADP Drop: BUY
Jacoby Brissett ain't Andrew Luck. And though he's capable of throwing the deep ball, which happens to supply a good portion of Hilton's fantasy points, it will be too inconsistent to rely on. Even if Luck does eventually take over, there's always the risk of re-injury, and there are options at WR in the third round that seem more reliable than Hilton given his shaky QB situation. Take Amari Cooper, Julian Edelman, Brandin Cooks, or someone along those lines instead of T.Y. at this point in the draft.
Andrew Luck
I could have packaged Hilton and Luck together, but Luck's situation is enough to warrant its own discussion. The news of his injury-plagued offseason has lasted long enough where it's starting to dissuade fantasy owners from taking Luck. He's now dropped to the late seventh-round in a 17-spot change from last week.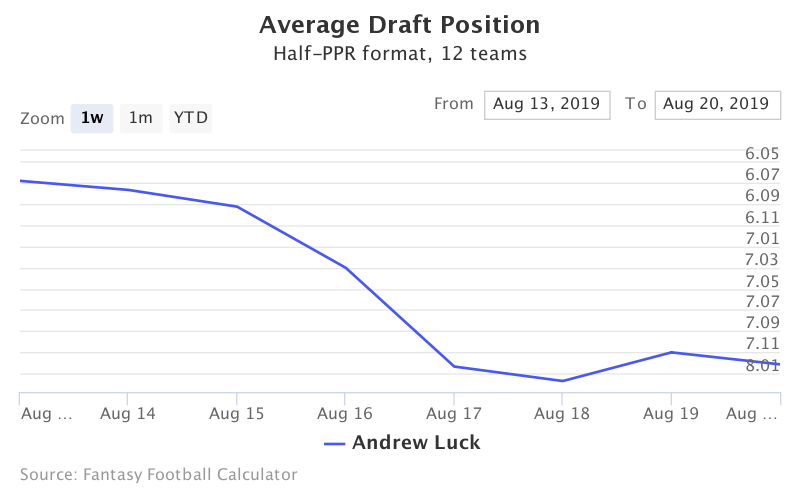 Buy/Sell ADP Drop: BUY
Why would I buy Carson Wentz's rise while also buying Andrew Luck's drop? Because Wentz isn't injured. And Luck is. And Luck has been injured for a long, long time, and his ankle and heel and calf and whatever the hell else is hurting him just keep on nagging. With an increasingly bleak future, Luck's situation is one that you can happily pass over with names like Drew Brees and Jared Goff nearby, and Philip Rivers and Ben Roethlisberger at the back end.
Team Trends
Eagles Running Backs (Again)
Miles Sanders keeps on rising as the hype train chugs along. The Penn State standout has risen another 10 spots in the past week (from 6.06 to 5.08). His veteran counterpart in the Philadelphia backfield, Jordan Howard, has continued his gradual decline, dropping another three spots (8.02 to 8.05) to the middle of the eighth round.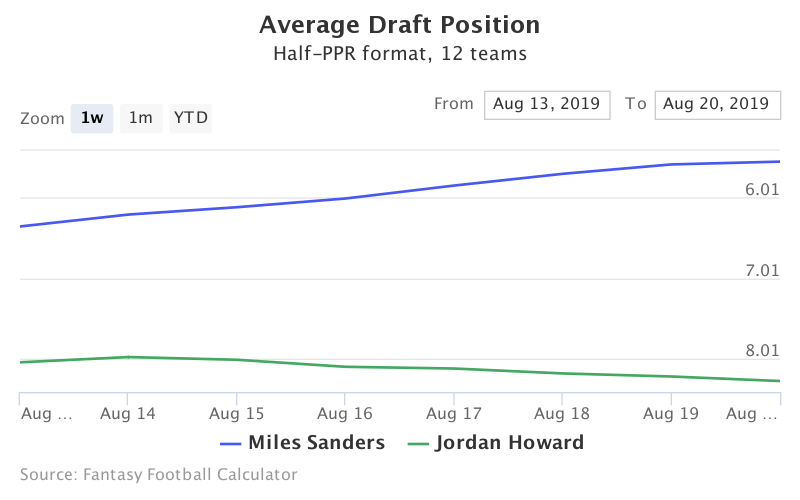 Buy/Sell Team ADP Trend: SELL
This may be confusing, but stay with me. I sold this pattern last week, too. But looking back on that now, I would now buy their ADPs of a week ago. In other words, I'd buy Sanders at 6.06 and Howard at 8.02. But another week has passed, and the gap between Sanders and Howard continues to grow. I just know that the Eagles signed Howard for a reason, and Doug Pederson has never had a running back exceed 200 carries. LaGarrette Blount's 173 in 2017 is the highest of the Pederson era. And because a) the Eagles passing offense is so deadly and b) both Howard and Sanders are solid options, I don't expect to see Sanders break the 200-carry mark, either. For all we know, Howard still might be the starting running back come Week 1.
Dolphins Running Backs (Again)
How much further can this go. Will we finally see a swap in ADP in Miami? Kenyan Drake has slid another 11 spots, while Ballage rose 24 in the past week. Drake suffered a foot injury and will likely miss the preseason, and Ballage's blend of speed and strength continues to impress.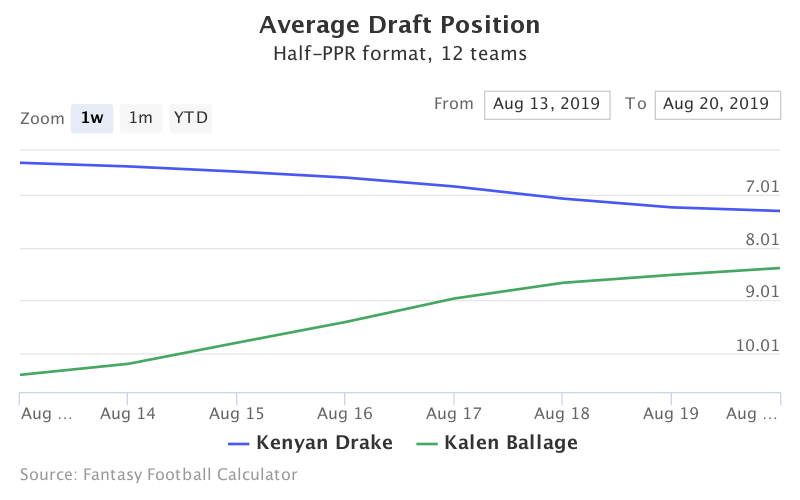 Buy/Sell Team ADP Trend: BUY
When Kenyan Drake was being drafted as an early fifth-round commodity a month ago, I cringed. This is more like it. Even if he didn't suffer an ankle injury, I wouldn't think about drafting him in the fifth round. He was the most overhyped player coming into this draft in my opinion, and others are finally starting to see it. I don't care if I'm wrong and he breaks out. I'm sticking with my gut on this one. Avoid Kenyan Drake.
And take Kalen Ballage in the ninth if you want him. He's boring, like every other part of this Miami offense.
Bills Running Backs
The young gun takes the lead! Rookie Devin Singletary has leapt over Shady, rising 10 spots in the process, while McCoy has plummeted 13 spots. Oh how times have changed.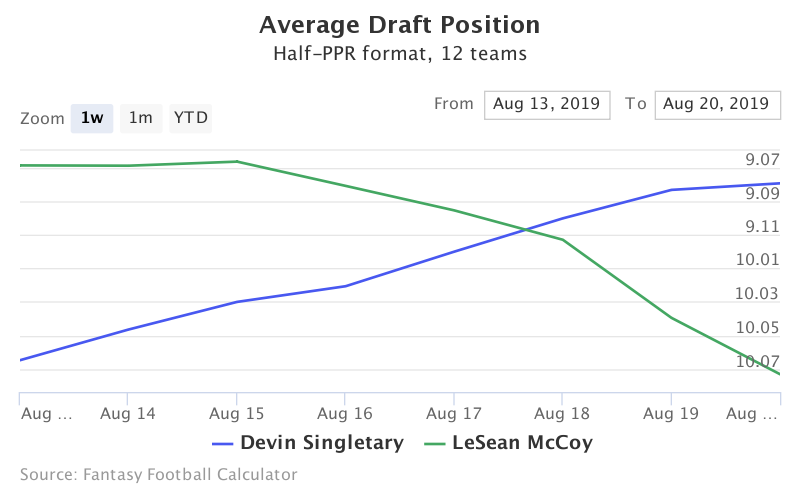 Buy/Sell Team ADP Trend: BUY… but not excitedly
It kind of stinks that Shady has fallen out of fantasy relevance because he still possesses such unbelievable ability to stop on a dime and completely change direction. But he's old and rusty, while Singletary is young and fresh, and is playing well on the ground and through the air in preseason action. This ADP is exactly right, too, because the Bills offense just doesn't excite enough to warrant big time fantasy appeal.
All graphs courtesy of Fantasy Football Calculator (1/2 ppr) and all stats courtesy of Pro Football Reference.
Follow @jordancohn2 on Twitter for more fantasy football and basketball updates!