I marvel at Adam Schefter, Ian Rapoport, Charles Robinson, and all the other beat writers, analysts, and experts that are just getting absolutely bombarded with information during training camp. Just consuming the influx of updates and news around the league as every organization fields its players and prepares for the oncoming season is overwhelming. It's exciting for sure. But it's also a lot to sort through.
But have no fear. I'm here, week by week, to fill you in on which training camp happenings should and should not impact your fantasy football draft strategy. With the first week of camp over and the opening round of preseason games right around the corner, it's a good time to check in on some early average draft position (ADP) risers and fallers of fantasy football 2019.
All ADPs in this article come from half-PPR mock drafts. All stats and figures from Pro Football Reference and Fantasy Football Calculator.
Risers
Theo Riddick is gone, and that leaves Kerryon Johnson, CJ Anderson, and Zach Zenner in the Detroit backfield. The hype surrounding Johnson was already high entering this offseason. New offensive coordinator Darrell Bevell has headed a top-five rushing offense six times in his 12 year career. Stafford's recent injury history indicates that the Lions may lean more on the ground game this season. And Kerryon Johnson did nothing but impress in his rookie season, finishing second in the league with 5.43 yards per attempt among players with at least 100 carries.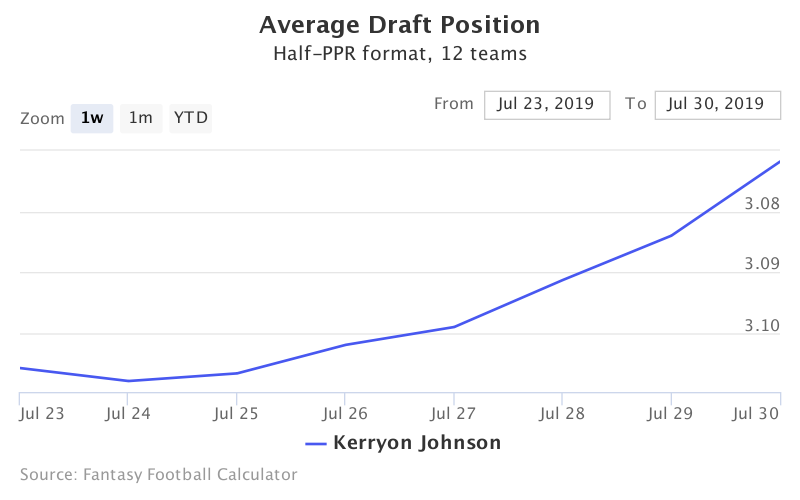 Buy/Sell the ADP Rise: BUY! BUY! BUY!
There are a lot of Stafford dump-offs to be had. A lot. Riddick had more receptions (281) than any other running back from 2014-2018, and I don't expect that share to go toward CJ Anderson or Zach Zenner, as neither of them had more than 10 catches last year. Kerryon could very realistically fill a feature back role, topping 100 looks from Stafford in the passing game and getting 200+ rushes (which is conservative). He's been going in round three or four, but that could shoot up to round two. It should still be worth that price.
AJ Green went down with an ankle injury that is supposed to hold him out for a good chunk of time that will leak into the regular season. Boyd, who just signed a pretty hefty extension with Cincinnati, will be the primary wide receiver in his absence.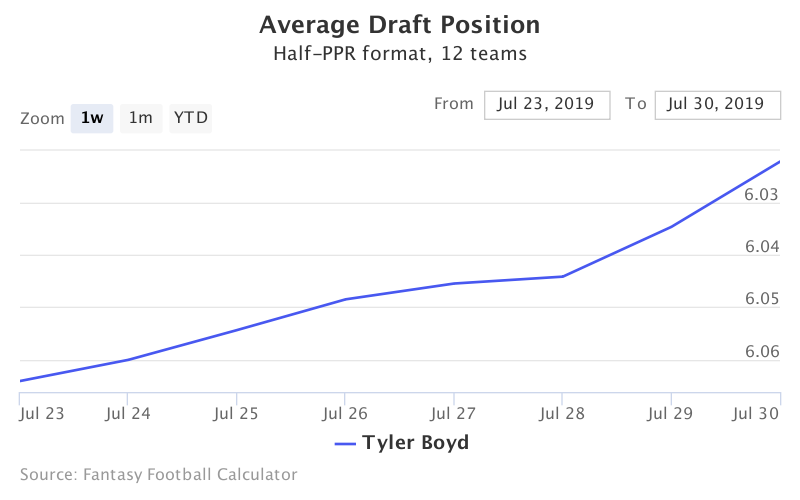 Buy/Sell the ADP Rise: SELL
The casual fantasy fan will see AJ Green's injury as a benefit to Tyler Boyd's fantasy stock. But don't be too hasty to assume that the absence of Green will help Boyd. Last season, Boyd's four biggest games in terms of receiving yards came when Green was active, distracting the defenses and freeing up space for the dangerous number two threat. Eifert is even more injury-prone than Green, meaning Boyd will often be the only real threat the defense has to worry about in the passing game unless Andy Dalton and John Ross can finally sync up.
Hill's roller coaster of an offseason saw him facing suspension, then undergoing exoneration, then answering some questions at a presser in ways that make me think the league should give their decision more thought. Personal opinions aside, though, the No. 1 wide receiver from fantasy football 2018 is back.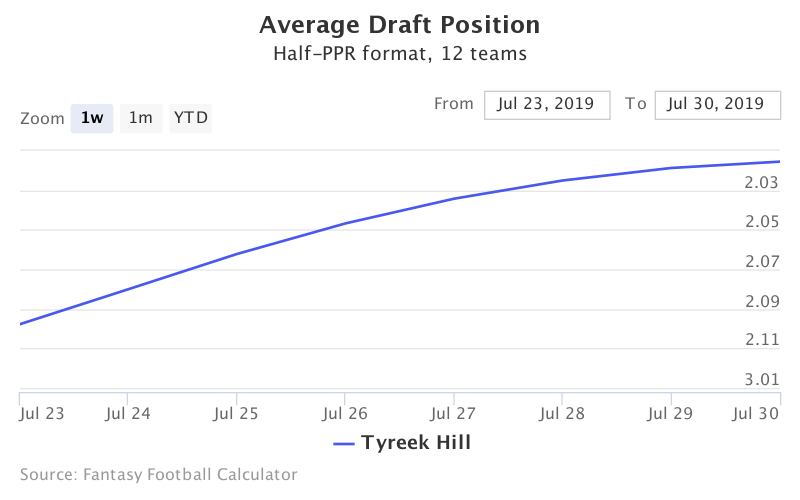 Buy/Sell the ADP Rise: BUY
Duh. He goes from being out of football to being the number one option in the number one offense. Don't overthink the off-field issues on this one as long as there are no new developments in the case. If he plays, you take him as a WR1. If he's suspended, then you don't draft him. It will be interesting to see what happens to his ADP if he gets a four- or eight- game suspension at some point. But we'll get to that if/when it happens.
Mahomes is getting drafted all over the board depending on the league and sets the tone for the other quarterbacks. It really depends on who is in your league and if they're STUPID enough to draft a quarterback in the first couple rounds. But getting his WR1 back has caused a definite change in his draft prospects.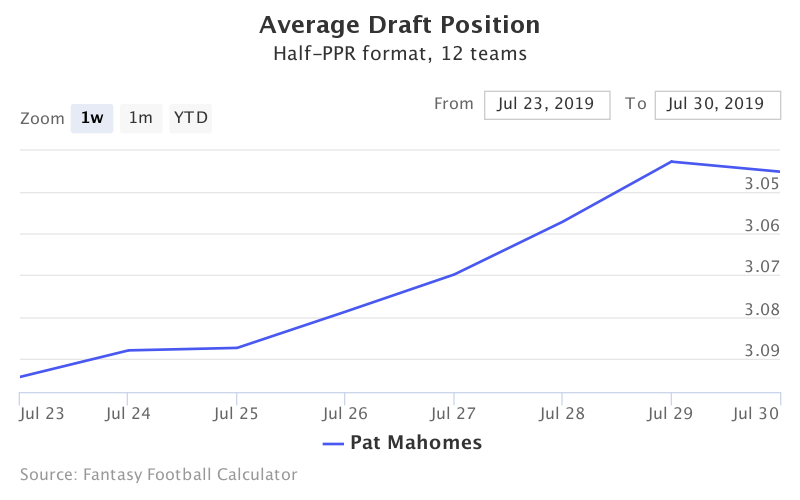 Buy/Sell the ADP Rise: SELL
Don't get me wrong- I think that Mahomes will be a better fantasy quarterback with Hill than without Hill, so it's not so much that I disagree with the rise in ADP as I disagree with expending a draft pick on him that early. There are RB1/WR1 candidates going in the early third round! Wait on quarterbacks! Just wait on them!
Chargers Backup RBs
Austin Ekeler and Justin Jackson have both risen on the draft boards pretty significantly in the midst of Melvin Gordon's contract holdout. For clarity, Ekeler was being taken towards the end of round nine and Jackson in the middle of round 14 just a week ago. Now, Ekeler is getting drafted at the end of round seven and Jackson at the end of round 12.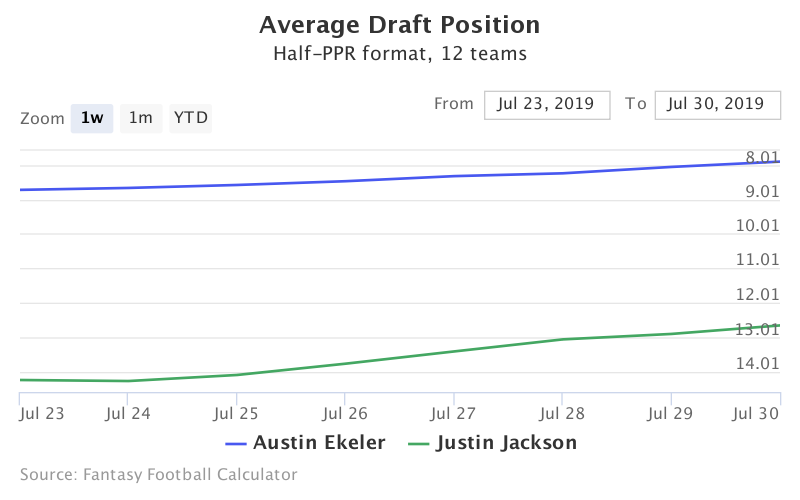 Buy/Sell ADP Rise: BUY
Here's the thing- it's so hard to speculate on whether or not the Chargers and Gordon will agree to something eventually. Different reporters are saying different things, with the general consensus leaning towards the disparity between Gordon's ideal contract and the Chargers' budget for a player of his caliber. Thus, it only makes sense that Ekeler should be drafted higher, as he's worth a pick even if Gordon hangs around. And Jackson is a bargain at his current ADP. Most of the guys you take at this stage won't stay on your team the whole year anyway, so take a guy with high upside like Jackson.
There is buzz emerging from Miami's OTAs that Ballage is getting a lot more work with the first team than teammate Kenyan Drake. Dolphins fans and fantasy football players alike are awaiting a breakout from Drake, but he still has yet to secure a significant majority of the work in the backfield.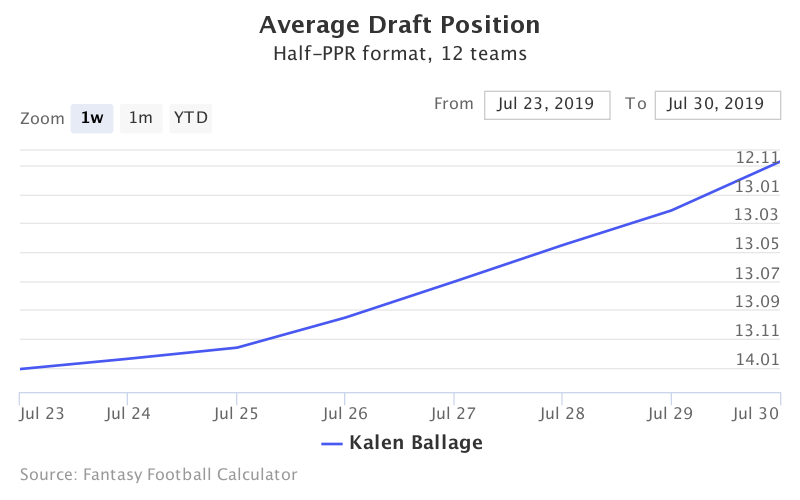 Buy/Sell the ADP Rise: Buy… I Guess
I'm just not high on Miami running backs period. I don't think that Ballage being drafted here will hurt you so I'm not against the rise, especially if he has a consistently large workload. Any lead running back this late in the draft can't hurt. This is a big increase for just one week though, and if he keeps trending up, it might become a reach.
Fallers
With no definite progress made in contract negotiations, Gordon is holding out of camp. Both parties seem pretty set in their ways, as I mentioned before, and it's unknown how long Gordon's absence will last.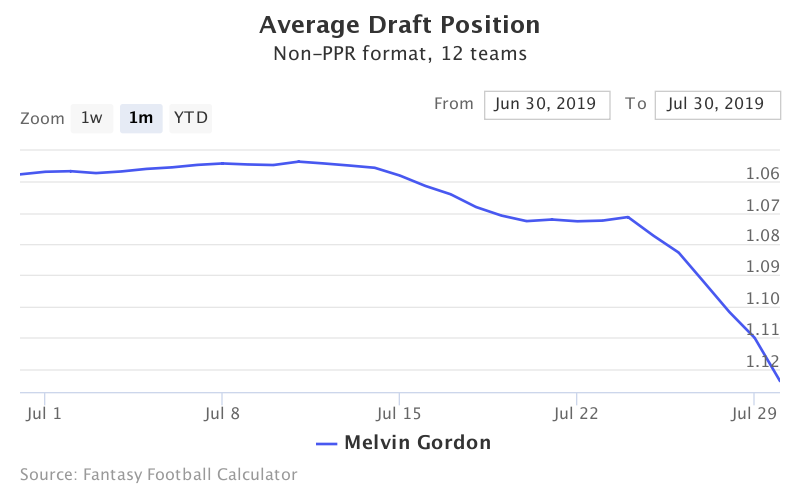 Buy/Sell the ADP Drop: Buy
Even if the two parties work something out, for now it makes complete sense to let Gordon fall down the board. Maybe it's recency bias due to the Le'Veon Bell fiasco last season, but at this stage of the draft, you are looking for the anchor of your time. The guy that will produce week in and week out. And if there's any risk at this stage, there are so many other viable candidates in the first two rounds that you just don't want to jeopardize your whole season.
*Sigh*… I was really looking forward to a comeback season. Green tore ligaments in his ankle and will miss extended time, and the injury is extra-scary because it occurred in the ankle opposite the one that gave him problems last season.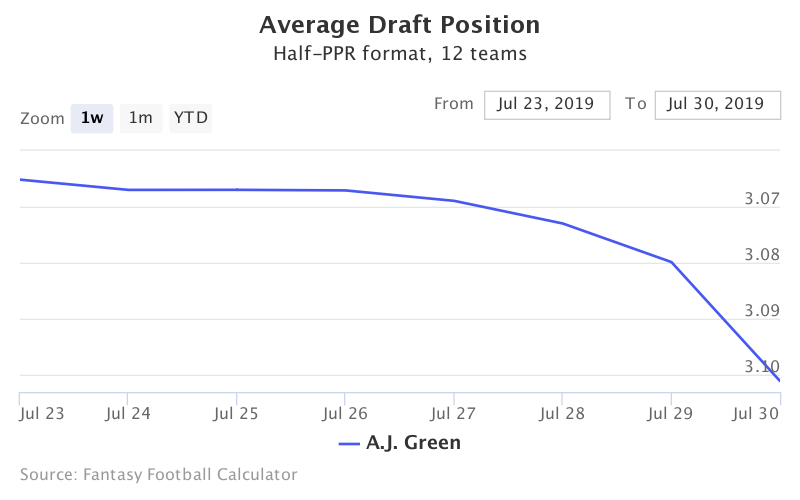 Buy/Sell the ADP Drop: Buy
If this injury was more of an anomaly- a blip in the radar, say- then I'd be selling on this drop. The thing is, though, you won't be able to completely trust Green's ability to stay on the field even when he returns. Sure, he'll perform at a high level when he comes back like he always does. But it's too hard to trust a guy his age with staying healthy and staying on the field. If I knew he'd miss four games and then play the remaining 12, I'm no doubt taking him in the third round. This just isn't the case.
It only makes sense that as Ballage's role increases, Drake's role and thus his ADP would decrease. Drake was a frustration in fantasy last season due to his high efficiency but low usage. Will this continue into 2019?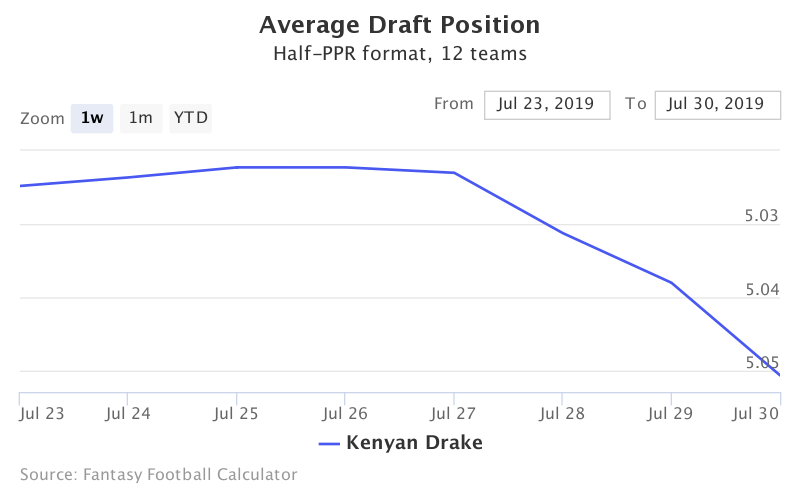 Buy/Sell the ADP Drop: Buy
I will repeat: I don't like the Dolphins in fantasy football this year. I listed Kenyan Drake as a bust in another one of my articles a couple weeks back, and am unlike many of the experts that think his round five ADP is too low. Now that it's dropping even further, maybe some fans are beginning to see the same dreary offensive outlook in Miami that I see.
Guice missed all of last season with a torn ACL, and has been eased into OTAs so far. However, his ADP is notably falling, especially when you look at just over a week ago when he was drafted almost a full round earlier. A lot of it might have to do with the absence of Trent Williams at left tackle and the overall disarray of the Redskins organization.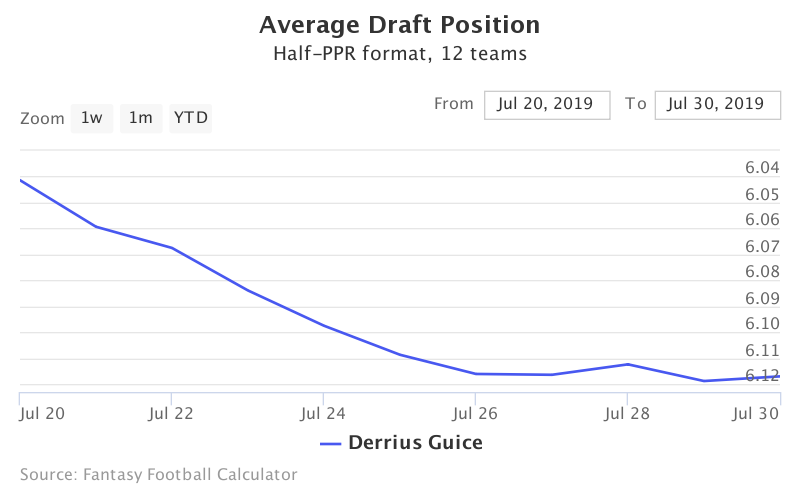 Buy/Sell the ADP Drop: Buy
If you're drafting Guice, you're drafting him for his upside, because nothing going on in his situation screams consistency. The backfield is crowded, the line is a shambles, the offense is lacking proven weapons, and his health is constantly in question. This is why I buy the drop in ADP. I don't, however, mind drafting Guice in the seventh round, which is where it seems he is trending. If you went receiver-heavy and need a running back at that point in the draft, he's someone who could turn out to be this year's young breakout.
Shepard fractured his thumb in the first day of training camp, the same practice in which fellow wide receiver Corey Coleman tore his ACL. The Giants and the receiver himself are optimistic that he will be fine to begin the regular season, but that's not a definite. Shepard's injury also comes in the wake of Golden Tate's possible (and likely) suspension).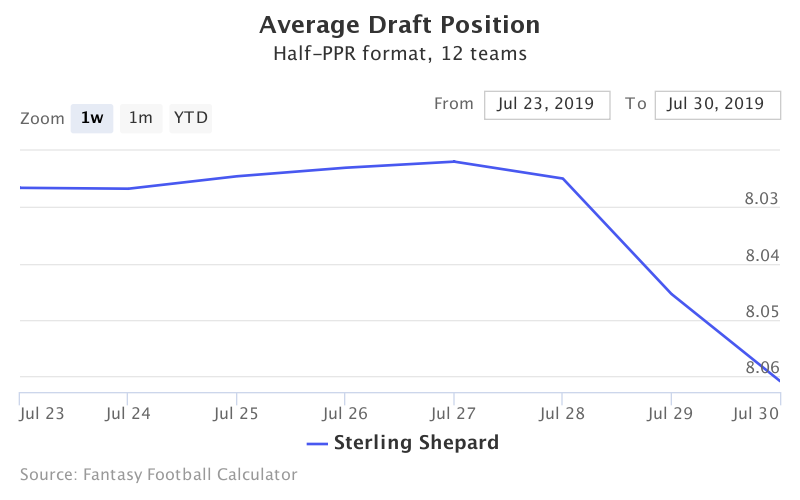 Buy/Sell the ADP Drop: Hard Sell
If he's going to be fine for the season opener, or even miss one game, why are people passing over Shepard? No, the Giants are not a good team. But yes, they do have some offensive firepower in Saquon Barkley, Evan Engram, and Shepard. Further still, Eli Manning is comfortable working with Shepard, and in games where Odell Beckham missed time last season, Shepard was targeted 7.8 times per contest. That's 124 targets over a whole 16-game schedule- plenty of volume for Shepard to turn in an 80-catch season.
Follow me on my new Twitter account at @jordancohn2 for fantasy football and basketball updates!