The Hall of Fame Game is over, and football is officially underway. As is the case every year, preseason games bring unlikely studs to the forefront of fantasy attention while sending others hurtling down the draft boards. It's important not to jump to conclusions. As much as you may want Kurt Benkert after his magnificent performance, resist the temptation. I promise.
With that in mind, let's take a look at this past week's average draft position (ADP) risers and fallers before the rest of the games officially get underway.
RISERS
Todd Gurley
With all the troubling reports regarding the arthritic component in Gurley's knee, the Rams have done a good job at keeping the media from generating too many concerning rumors. There are also some encouraging reports about his camp so far. The fantasy world has taken note, and it appears his ADP is slowly on the rise.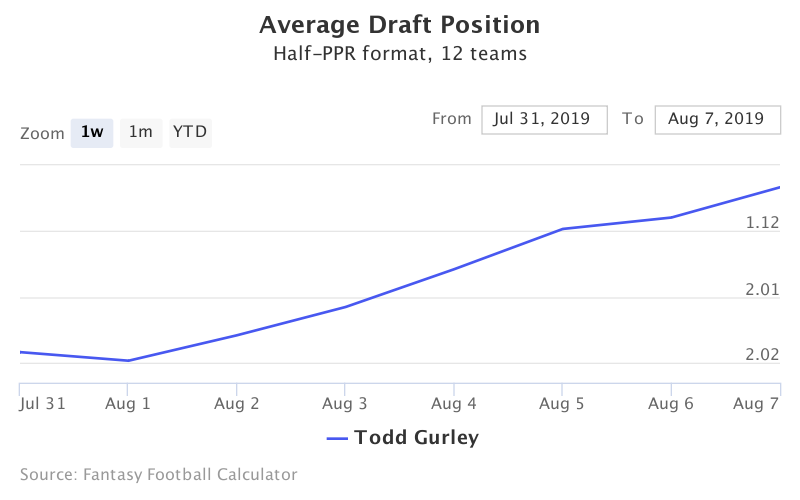 Buy/Sell ADP Rise: SELL
I abide by my philosophy that the most important quality a first-round pick can have is consistency. I'm perfectly ready and willing to admit that a healthy Gurley will have more fantasy value than someone like Nick Chubb who might not be as appealing as Gurley. But Chubb is young, healthy, and ready to go. Gurley is evidently less-so than Chubb in all three of those categories. It'll take a healthy couple of weeks of preseason work to make me trust Gurley.
Kerryon Johnson
See last week's article. I'll just end up repeating myself.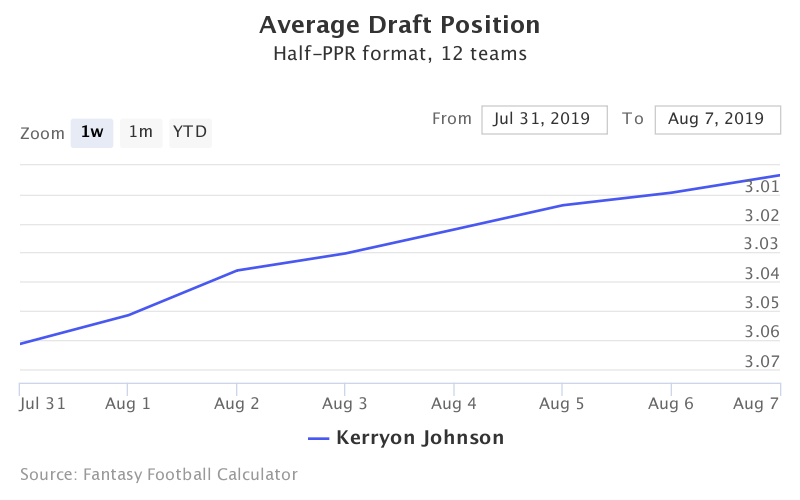 Buy/Sell ADP Rise: BUY
Again, see last week's article. But too much more rising might be a liiiiiiiittle too much love for a guy in a weak organization.
Deshaun Watson
He's having a good camp, and the wide receiver corps is among the best in the NFL. A pretty significant rise occurred in his ADP over the past week, and while there hasn't been any major news about Watson to provoke this, his continual evolution into a professional quarterback and the departure of D'Onta Foreman may have contributed to this.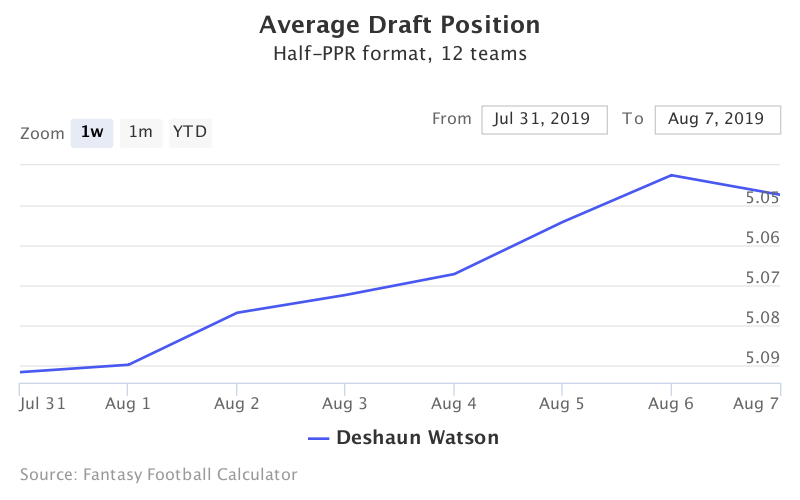 Buy/Sell ADP Rise: BUY
I think that Deshaun Watson will be the No. 1 QB in fantasy football this season. I think that Foreman's departure has little to no effect on Watson, but may bolster Watson's role as a runner so as to a) conserve some of Lamar Miller's usage and b) rely less on the other Houston backups who are pretty much unknown. Hopkins, Fuller, and Coutee are electric and Watson's MVP odds have gone from 60:1 to 20:1.
Lamar Miller
Adios, D'Onta. Hello, feature back Lamar Miller. The backfield seems to be all his, and fantasy players are beginning to reinstall their trust in the 28-year-old.
Buy/Sell ADP Rise: BUY
Miller has so, so, so quietly been a consistent force in the NFL. Here's a pretty insane stat. From 2014 to now, only two players have recorded 1,000 all-purpose yards and six touchdowns in each and every one of those five seasons. Antonio Brown is one, which is unsurprising. Lamar Miller is the other. He's not a very sexy addition to your roster, but whereas running back is a volatile position, Miller is perhaps as consistent as it comes outside the top tier. Without any competition there and a high-powered offense, I sneakily love Lamar this year.
FALLERS
Ezekiel Elliott
IT'S HAPPENING! Elliott has officially gone past his August 6 "deadline" (which actually isn't that important of a deadline at all) and threatens to sit out the season if there isn't a new contract waiting for him. The Cowboys apparently offered him some contract that would make him a top-five highest-paid RB, but we'll have to see if that eventually cuts it for him. As a result, Zeke's ADP has slid from second- to fifth-overall on Fantasy Football Calculator's mock draft data.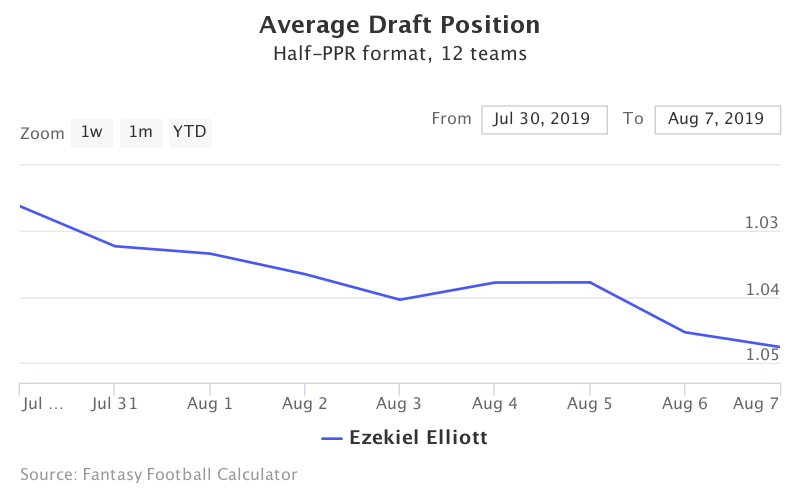 Buy/Sell ADP Drop: SELL
I'm only selling this because I still just can't see the Cowboys letting Zeke sit out for the entire season. They have high hopes for success right now in an NFC East that is definitively a two-team race. I don't care if Jerry Jones doesn't need a good running back to win a title (because he does given that his team is centered around Elliott). He'll come to his senses and bring him back, and Zeke will dominate again.
Damien Williams
Williams scored 14 touchdowns in a six-week span. That's hilarious. This offseason hasn't been as fun for the 27-year-old, though, who is missing day after day with hamstring troubles. His ADP has taken a concurrent hit. It's worth noting that Hyde's ADP, though still a late one, has risen six picks.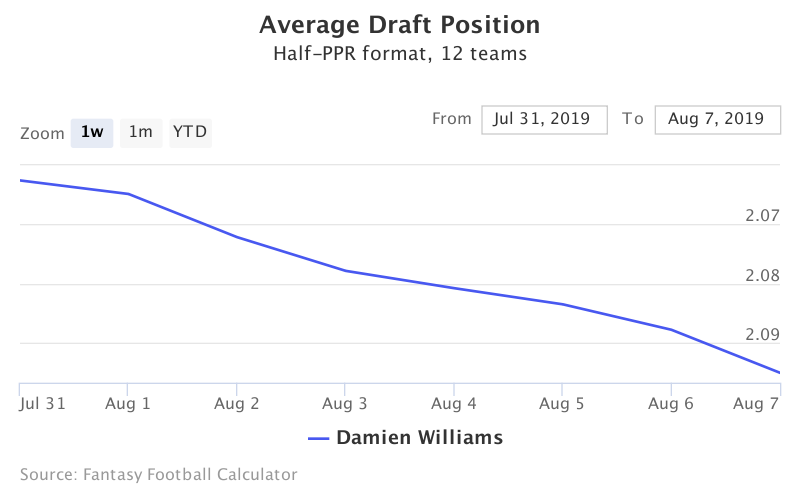 Buy/Sell ADP Drop: BUY
Andy Reid talked about his RBs in a press conference, and a pretty good summary is that he's disappointed that Williams is missing time, and that every other running back in the organization is playing well. Kansas City is officially the Mecca of running back productivity, and while this seems good for Williams, it also means that it doesn't need to be him leading the charge. I'm pretty sure Betty White could head the KC backfield and average five yards per carry. This makes it harder for me to trust Williams with such an early pick.
Melvin Gordon
Oh, this one's getting real. That's a big slide for Gordon, who has rejected the Chargers' offer of $10 million per year. The Chargers aren't budging, and Gordon ain't either.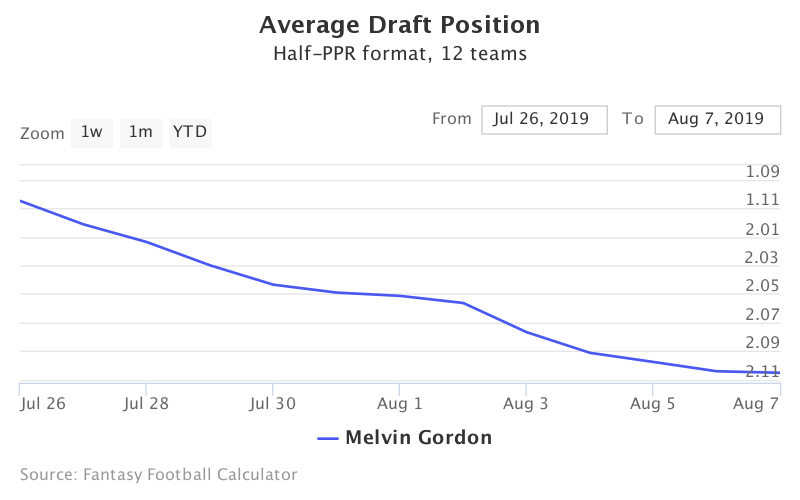 Buy/Sell ADP Drop: BUY
I'm buying the drop because he should no longer be a first-round pick. I'm not sure I'm willing to draft him at this point in the draft either. The Le'Veon Bell PTSD is a real thing and Gordon's hold out seems much more realistic than Zeke's. However, I'd take Gordon in the third round. Odds are he'll go elsewhere if he doesn't sign with LA soon despite his hefty contract desires and he'll immediately resume bellcow duties. But in a couple of weeks, I might feel very differently, and I imagine his ADP will reflect that.
TJ Hockensen
The eighth-overall pick in the 2019 draft is developing chemistry with Stafford, impressing with his hands, and becoming a big red zone target in OTAs. Naturally, his ADP is ris… wait, what?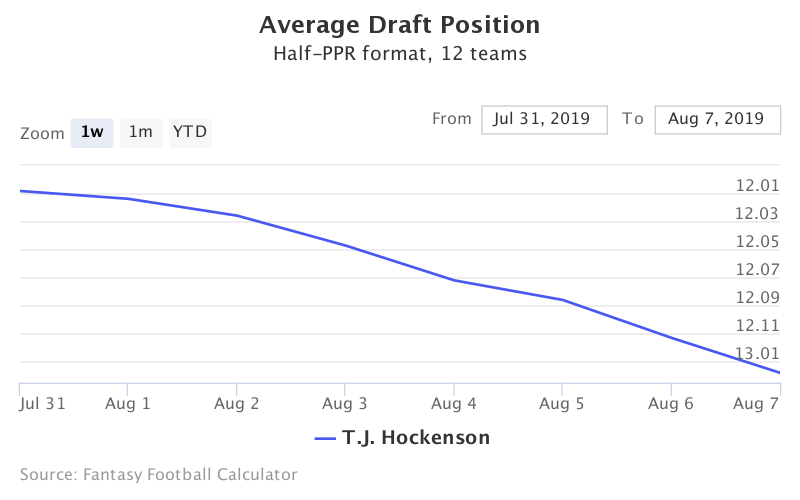 Buy/Sell ADP Drop: SELL
I'm confused. Why is it dropping so much? What other tight ends are so compelling that Hockensen is becoming a forgotten commodity? This much buzz surrounding such a young, talented player is producing exactly the opposite of what I'd expect. There's a new TJ H. in fantasy football, and his last name is a whole lot easier to spell.
Team Patterns
Bengals Receivers
Green (ankle) continued his descent to start the week, and then tapered off at the back-end of the fourth round. Tyler Boyd, meanwhile, went up seven picks over the past seven days.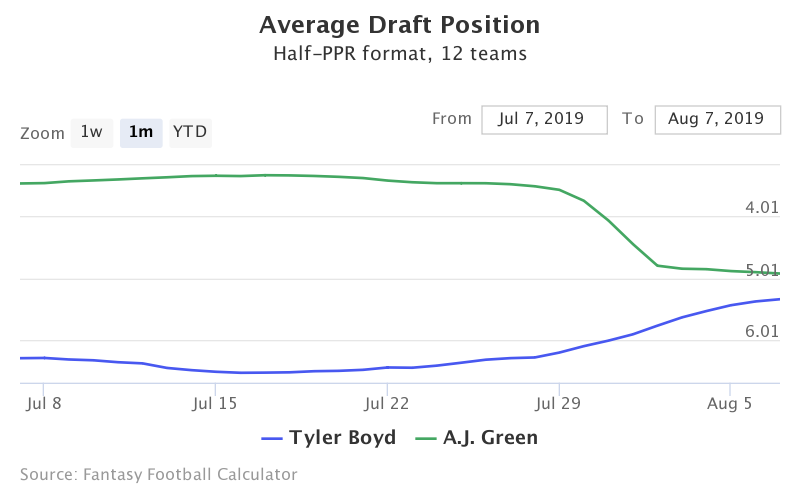 Buy/Sell ADP Trends: BUY
It's pretty clear that both of these ADPs should be trending in the manner that they are. There's a bigger question here, though. Who do you draft first? Is it heresy to draft the mainstay of the Bengals offense and one of the best receivers of the last 20 years behind a guy who established himself just last year? This could be a whole article in itself… but my short answer is that I'd draft Boyd first. It's almost become a banal topic at this point, but Boyd performed very well whether or not Green was on the field, and his contract indicates that he might just be the new star receiver in Cincy.
Miami Backfield
Let's look at an update of my least favorite team backfield.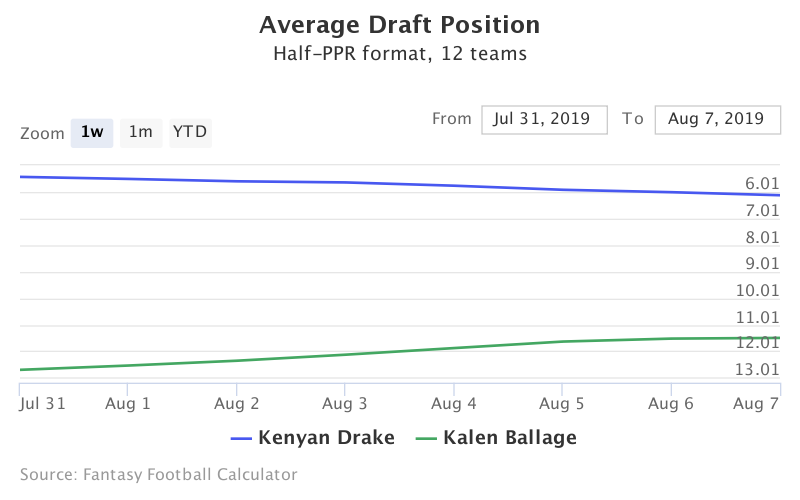 Buy/Sell ADP Trends: BUY
I'm so glad that people are giving up on Kenyan Drake. I just hope it doesn't come back to bite me that I (or someone else) have encouraged so many people to temper their expectations of the Miami back that never got a fair chance. Ballage is still being taken pretty low so I don't care that his stock is rising, per se. I still ain't touching him.
Philadelphia Backfield
Every picture tells a story. Two friends walking along, supporting each other, until one just can't keep up and the other leaves him in the dust. Is this what's happening in Philly?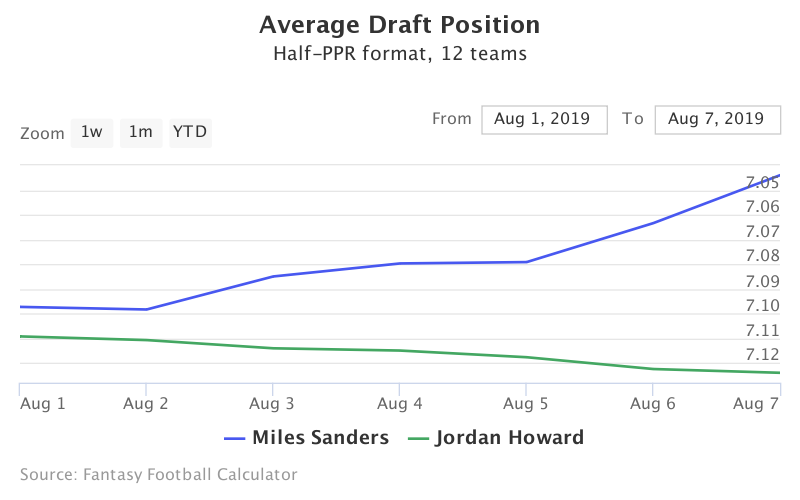 Buy/Sell ADP Trends: BUY
There are mumblings that Sanders is wayyy ahead of the rest of the pack in Philly in terms of talent. A year from now, I truly believe we could be taking Sanders with a very early pick. The offense is so good and Sanders is opening eyes every practice. Howard should also be a reliable contributor and will likely get more of the work early on. Both should be solid producers at different points throughout the season, but be ready for a Sanders explosion midway through.
All stats courtesy of Football Reference. All graphs and draft data courtesy of Fantasy Football Calculator (Half-PPR).
Follow @jordancohn2 for fantasy football and fantasy basketball updates, articles, and more throughout the year!