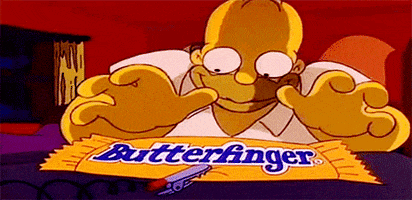 With Halloween this weekend, the country has been consumed with ranking their favorite sweets. The divergent opinions and tastes are what make life beautiful and interesting. How boring would the internet be if everyone agreed with each other?
Here are two different descriptions of Butterfinger:
"Butterfingers. We're not exactly positive what's going on inside of a Butterfinger — what is it? And why is it orange? — but they sure are delicious. Nobody's gonna lay a finger on my Butterfinger (both a good candy strategy and a euphemism for something inappropriate, probably)."- ETonline.com
"Oh come on; this can't have been designed for human consumption. This isn't a candy bar, this is a chocolate-coated grenade filled with shrapnel made of peanut brittle. I feel like Butterfinger was an elaborate prank that got to the point where it was too embarrassing to call it off, so they just went with it, and because of Bart Simpson, people still buy the f***ing things (I'M OLD)."- Jezebel.com
What's this have to do with football? Butterfinger may be an acceptable name for a candy, but not for a football player that's paid to catch the ball… The average catch rate lies in the low-to-mid 60% range. The player I'm going to talk about today has posted eight seasons under 60% and is currently at 50% for 2015.
So why am I wasting time talking about this player?
When you go trick or treating, have you ever declined FREE candy? Exactly. I hate black licorice but I'll gladly open my bag and take it. Maybe I can pawn it off to someone that does.
This week's Bear or Bull player just scored two touchdowns and hauled in nine receptions on 16 targets. You telling me that you are not interested in FREE touchdowns? Yeah, I didn't think so.
Who is this putrid tasting to some and delectable to many Butterfinger? Nate Washington.
Washington is 32 years old, 6' 1", and 183 lbs. He was signed as an undrafted free agent in 2005 by the Pittsburgh Steelers. He played his college ball at Tiffin University.
He played three years for the Steelers, six years for the Titans, and is in his first year with the Texans. In his prior nine years, Washington exceeded 1,000 yards receiving once (2011). He never caught more than 74 passes or seven touchdowns, despite never missing a game.
Here is his career catch percentage:
| | |
| --- | --- |
| YEAR | CATCH PERCENTAGE |
| 2006 | 50 |
| 2007 | 52 |
| 2008 | 51 |
| 2009 | 49 |
| 2010 | 44 |
| 2011 | 61 |
| 2012 | 51 |
| 2013 | 55 |
| 2014 | 57 |
| 2015 | 50 |
Pretty gross, but fantasy football is not always about talent. Situation, opportunity, and cost can be just as valuable.
According to ESPN.com, Washington's ownership percentage is 5.7%. FREE candy.
Did you know that the Texans are on pace to break the 1994 Patriots record for most plays run in a single season? Well, now you do. The Texans have run 532 plays, which puts them on pace for 76/game and finish with 1,216. The '94 Pats finished with 1,199. The more front doors you knock, the more candy you get.
The Texans defense has been atrocious this year. The unit gives up 28.4 points-per-game, which is third worst in the league.
As a result, the offense has had to chase points. Texans quarterbacks have attempted the most passes in the league (327). That's a ridiculous 46 times per game.
The more absurd thing is that pace could be maintained. If you've been living under a rock and haven't heard, but Arian Foster is out for the season due to an Achilles injury.
Sayonara to the run game in Houston. The best player without question is now DeAndre Hopkins, who is within striking distance of breaking the single-season marks in targets, receptions, and receiving yardage. This makes our Butterfinger more appealing.
Washington will ALWAYS see single-coverage. Like forever ever.
VERDICT
You can follow Stan on Twitter.