A blast from the past with a cute little beat that can make your time on the toilet a little more enjoyable. You're welcome. Now, I'm not an advocate of pursuing O.P.P. (Other People's P???y). It's just not my style and I think it's dirty. With that said, I am considering DGB. Which is worse? DGB is Dorial Green-Beckham, a size/speed freak that was considered the best wide receiver prospect since Randy Moss. He was the LeBron James of high school football back in 2011. At his pro day, he measured in at 6'5″, 237 lbs. with 9″ hands and 32 1/2″ arm length. He ran the 40-yard dash in 4.49 seconds and 3-cone drill in 6.89 seconds.
He was drafted by the Titans in the second round of the 2015 NFL Draft with the 40th overall pick. The reason he slipped was due to numerous off-field incidents:
Subject of burglary and assault investigation by police.
Allegedly pushed a female down some stairs.
Arrested twice for marijuana-related incidents.
Are these red flags for fundamental character issues or are they mistakes made by a young, immature kid? Time will only tell, but there are examples of his work ethic being excellent. My concerns with DGB actually do not stem from his off-field mistakes. As a Raiders fan, I am still reeling from DHB, aka Darrius Heyward-Bey. DHB was the 6'2″, 219 lbs. wide "receiver" that could run the 40-yard dash in 4.30 seconds. The No. 7 overall pick!
Okay. Sorry about that. I feel a little better now. So DHB could run really fast in a straight line. He was raw in the art of running routes and had difficulty catching the ball. Getting open and catching the ball are important characteristics for being a professional catcher of football passes.
Here is DGB's scouting analysis from NFL.com:
"Imposing physical specimen with outstanding height, weight and speed numbers…Struggles to free himself from press coverage and can be taken completely out of his routes. Runs sloppy, round routes. Fails to set up his breaks and frequently leads cornerbacks to his destination. Slow to adjust routes and find open space against zone."
So DGB is basically Bizarro Amari Cooper. Got it.
So what got DGB on the SON radar? Opportunity.
In the Week 9 win over the Saints, DGB received 10 targets from Marcus Mariota and played in 68% of the snaps. Since Week 1, the snap percentage by game has been:
| WEEK | SNAP % |
| --- | --- |
| 1 | 15% |
| 2 | 16% |
| 3 | 17% |
| 5 | 26% |
| 6 | 42% |
| 7 | 67% |
| 8 | 61% |
DGB is becoming a staple in the Titans offense. I went back at looked at Sunday's game tape to see how he is being used and if the prospects for the future were bright.
My first thought was HOLY [email protected]#$! The guy is freaking huge. Like…: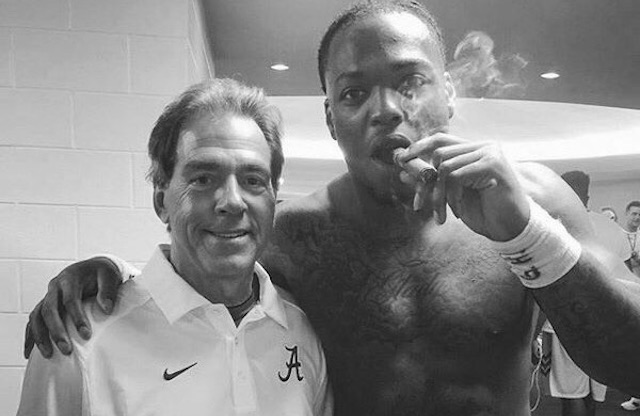 There's no looking for the jersey number. You know where DGB is at all times.
He received his first target with 9:02 left in the first quarter. The Titans are backed up against their own goal line. DGB is lined up to the right of Mariota and runs a little hitch against a zone defense. He flat out drops the pass. Not good.
At 10:07 in the second quarter, DGB utilizes his size, but not in the way that you would have expected. It's a running play and he blocks his initial defender. He then peels off and takes out two more guys to wall off the backside. If he beasts like that in the run game, he could earn more snaps going forward.
With 1:32 left in the second quarter, he receives his second target. He's lined up to the right of Mariota again and runs a go-route. Mariota lofts it up back shoulder. DGB cannot locate the ball and it falls incomplete.
12:40 to go in the third quarter, DGB collects his first catch. He's lined up in the slot to the left of Mariota. It's a quick slant and he makes a nice catch scooping up a low throw.
On the same drive, he's lined up wide out left and runs another go-route. Mariota throws a dart back shoulder and DGB is able to box out the defender and catch the ball.
At 8:08 in the third quarter, the Titans are in the red zone/green zone or whatever the hell you want to call it zone. DGB is lined up in the slot to the right of Mariota and runs a drag route to the left. The cornerback bodies him up and follows him across the field. The pressure distracts DGB and inhibits him from locating the Mariota pass that sails right by his head.
3:30 in the third quarter, he's lined up wide to the left of the formation. He runs another quick slant but is unable to catch the poorly thrown pass.
In the fourth quarter with 4:18 left, he's lined up to the right of the formation and runs a slant. He hauls in the pass and carries his defender for 10 yards to end up with a 20 yard gain. His size and strength is on full display.
With 0:27 left in the quarter, he's again lined up wide to the right and runs a go-route. He has a step on his defender but the Mariota pass is underthrown. He jumps and reaches over the defender but is unable to come down with the pass.
To begin overtime, he's lined up in the slot to the left and runs a five-yard hitch recognizing it's zone. He catches the ball, turns up field and breaks multiple tackles for an additional 10 yards.
With 11:12 left in overtime and the Titans down in the "zone," DGB catches a little slant that goes for eight yards. The impressive thing about the play is that cornerback Brandon Browner shades him to the inside and tries to funnel him to the sideline. Instead, DGB gives him a jab step and turns him around to gain separation. Granted, Browner is not a great cornerback but it was a nice move regardless.
DGB is still raw, as his route tree is very limited: fly, slant and hitch. A good cornerback will eat him alive, but he does have that unteachable physical ability. Utilizing his body to box out defenders can be unfair.
AM I DOWN WITH DGB?
The schedule is not particularly daunting. The Panthers, Jets and Patriots are the three tough matchups. The Titans play the Jaguars twice, Raiders, Texans and end with the Colts.
Mariota trusts him and the coaching staff had him on the field in crunch time. The size/speed combo is always enchanting and I'm not feeling DHB dirty.
With that said, I'm not falling for the banana in the tailpipe. The Saints are arguably one of the worst defenses in football. Kendall Wright should be returning to action soon and will dominate the targets from the wide receiver position. Tight end Delanie Walker will remain Mariota's BFF. DGB doesn't run crisp enough routes to make a significant impact in the short to intermediate game and Mariota throws a terrible deep ball.
VERDICT
You can follow Stan on Twitter.