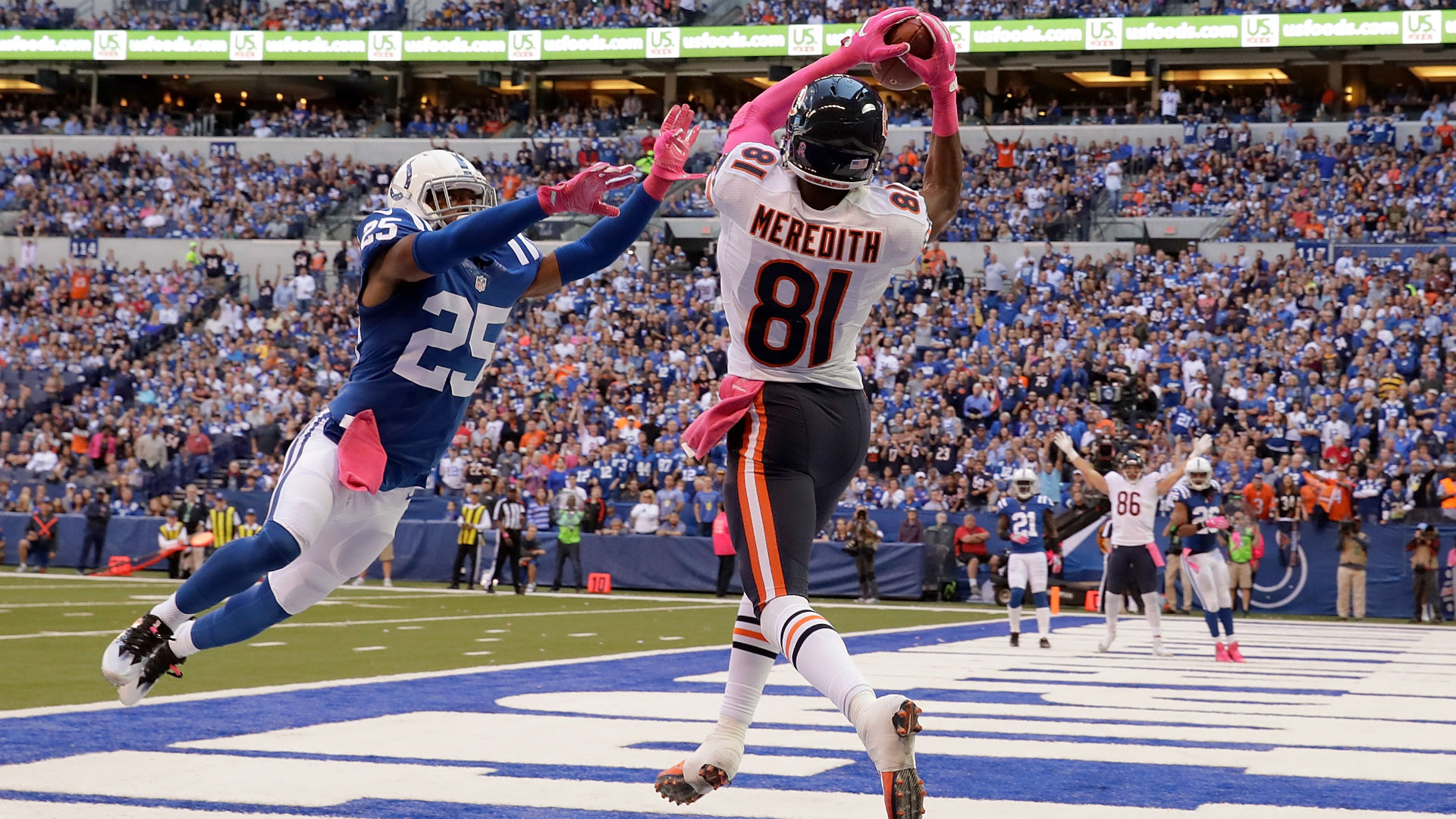 Depending on your league, there should be some very enticing options on the waiver wire at the wide receiver position this week. Many of you will be debating the merits of scooping up Cameron Meredith. If this article comes out after your waiver wire process, then you can check to see if you missed out on the next big thing or drown in your tears with buyer's remorse.
Meredith is 6'3″ and 207 pounds. He was not invited to the NFL Combine after playing his college ball at Illinois State, but ran a 4.49 40-yard dash and an impressive 6.71 3-cone drill at his pro day, which earned him some free agent offers. He chose to sign with the Chicago Bears before the 2015 season. Meredith did not play much his rookie year, compiling 11 receptions on 16 targets for 120 yards and zero touchdowns. 2016 began much the same way, as he did not play the first two games of the season and hauled in six receptions on eight targets for 52 yards when he finally did play. Being buried behind Alshon Jeffery and Kevin White on the depth chart did not afford many opportunites for the second-year undrafted free agent player.
This is the NFL, though. One play can send a player into retirement and bring a relative unknown into the light. We often think that the fourth or fifth guy on the depth chart is a scrub, but in actuality, they are still the top 1% of the athlete pool. Scrub is such a relative term. I guess the point just highlights how amazing the superstars truly are. Anyways, Kevin White needs fibula surgery which is going to shelve him for a few months. Meredith stepped in Week 5 against the Indianapolis Colts and caught nine passes on 12 targets for 130 yards and a touchdown. The light is shining brightly upon the previously unknown receiver.
Is this a Milli Vanilli situation or something sustainable?
I always like to get the bad out of they way first. He's fumbled three times already this season and lost two of them. Head coach John Fox hates turnovers, so this could potentially put him in the dog house and limit his playing time in the future. With that said, Fox is trying to win and needs his best players out there. Obviously, if he continues to fumble every game then all bets are off, but I'm willing to bet that he can get that issue corrected.
Now for the good. Brian Hoyer loves the position that White and Meredith occupy in the offense for some reason. White received 14 targets in Week 4 and Meredith got 12 targets last week. Supposed number one receiver, Alshon Jeffery has not received more than seven targets in any game. Very strange. That could change going forward, but even if it does, there will remain plenty of opportunties for all the receivers. The Bears are currently 12th in the league with 186 pass attempts. At this pace, they will attempt close to 600 passes for the season. That's a lot of volume. In addition, the Bears' defense is not very good, which enhances the possibility that the game script for most games will call for lots of passing. Back to Hoyer. Since getting the starting nod in Week 3, he's thrown for over 300 yards and two touchdowns in three straight games. He's completed over 75% of his passes in the past two games. He has yet to thrown an interception. Bye bye Jay Cutler.
Everyone in the NFL is talented. Often times, a player just needs the right situation and opportunity to find success. Meredith has the opportunity and is in a conducive situation to shine bright.
VERDICT