There's a monster down in Jacksonville. No, it's name is not Blake Bortles. Although, Bortles' play this year has been downright frightening. This monster that I speak of is 6′ 0″ 224 pounds and has dreads flowing out from underneath his helmet, very much like the tentacles of the Kraken reaching out to engulf a ship at sea. Instead of munching on ships in the ocean, though, this monster trucks helpless defenders and leaves them in his wake. Ladies and gentlemen, I'd like to introduce you to Chris Ivory of the Jacksonville Jaguars. Release the Kraken!
Ivory signed with the New Orleans Saints in 2010 as an undrafted free agent. Despite displaying his prowess as a football player, he was buried on the depth chart. In addition, he suffered some injuries which limited him to 256 carries over the course of 24 games. As a result, he was traded to the New York Jets in 2013 for a fourth round pick. The Jets subsequently signed him to a three-year/$10 million deal. From 2013-2015, Ivory missed only two games, rushed 627 times for 2,724 yards, and scored 16 touchdowns. This got Ivory paid, as the notorious Shahid Khan welcomed him to Jacksonville with a five year/$32 million dollar contract. What a country. USA! USA! USA!
Now, things did not start out well for Ivory in Jacksonville. He missed two games due to injury and, in his first game of the season, posted a line of 12 carries for 14 yards. How is that even possible? Entering Week 9, Ivory had carried the rock 40 times for 129 yards with one touchdown in five games played. Well, Donald Trump is now the POTUS, so anything is possible and nothing will ever surprise me again. Until the next Black Swan event. Then, I will be just as surprised. What a silly human I am.
Why am I writing about a player that can barely make it past the line of scrimmage and plays on a horrible team with a disgustingly terrible quarterback?
Because the Kraken has been released!!!
In the Week 9 game against the Kansas City Chiefs, Ivory received 18 carries and rumbled for 107 yards. I hear y'all saying: Big deal. It was an outlier game. No way I'm touching that turd with a ten-foot pole, let alone roster him on my beautiful beautiful fantasy squad. To that I say….good points. He ain't sexy. In fact, the situation is ugly, but here's the thing. Things are a changing and change is good. Granted, change is not always good but, in this case, it is.
After the loss to the Tennessee Titans in Week 8, the Jaguars decided to fire offensive…yes, he was very offensive…coordinator Greg Olson. As a Raiders fan, I am intimately familiar with his offensive ways. I truly believe that he spent more time making sure his slicked backed hair looked perfect instead of devising productive game plans.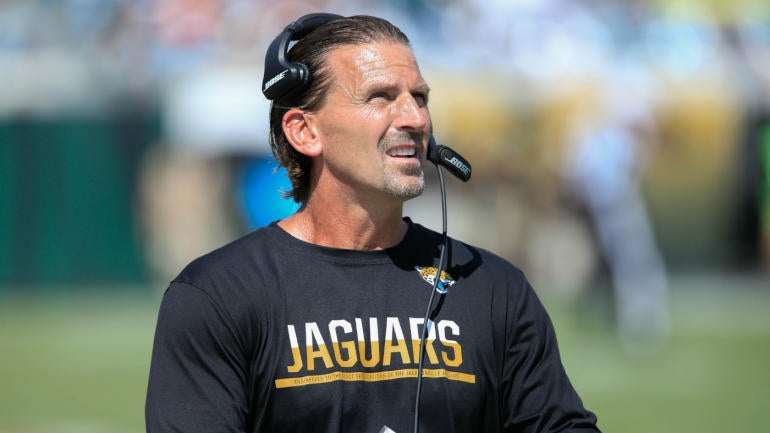 Am I wrong? Anyways, Olson is a terrible OC. In his 10-year coaching career, his offenses have ranked an average of 24th in points scored. The Jaguars are fifth in pass attempts with 331, while they rank dead last in rushing attempts with 166. Those numbers would be acceptable if Tom Brady was under center, but it's Blake Bortles. Maybe too much hair product was messing with the neural synapses in Olson's brain?
I haven't seen quarterback play this bad since David Carr's time with the Texans. At least much of his struggles were due to the inability of the Texans to acquire competent offensive linemen to protect him. It got so bad for Carr that he literally started seeing ghosts and began flinching like a crackhead. Anyways, back to Bortles. He is all messed up in the head. His mechanics are falling apart and he's aiming the ball now, instead of throwing. If you've played baseball or thrown darts, you know what I'm talking about. When I watch Bortles play, I keep getting reminded of Chuck Knoblauch. For those that don't know, Knoblauch was a second basemen for the Twins and Yankees. He slugged home runs and played good defense at second base until….he got the yips. All of a sudden, homeboy couldn't throw to first base. It was the most hilarious thing I've ever seen. I guess if you're a Yankees fan then not so funny. Anyways, the yips totally destroyed him as a professional baseball player. This is what I see with Bortles. Like I said, Olson was too busy making sure his hair looked spiffy to notice these things with his "franchise" quarterback. Rather than help him out and lessen the load, he continued to dial up pass play after pass play.
Now, Nathaniel Hackett has replaced Olson as OC and, if his first game is any indication, he's going to rely on the ground game and take some of the burden off of Bortles. A huge component of fantasy football success is identifying opportunity. Who's getting the most targets? Carries? Remember Tim Hightower last year? He's not the flashiest runner, but he's hard nosed and was given the bulk of the carries. End result? Fantasy glory for many.
Don't get me wrong. I'm not claiming that Ivory will be a league winner for you. Far from it, especially since the schedule is not that accomodating: HOU, DET, BUF, DEN, MIN, HOU, TEN, and IND. With that said, opportunity is opportunity and Ivory does have skills. Many call him the Kraken for a reason. With the amount of running backs that have gone down this season, a back that's going to receive 15-20 carries is a precious commodity. If Hackett can remain patient with the run game, maybe that calms down Bortles and gets the yips out of his system. If that happens, then the situation looks even brighter for Ivory. That's a lot of if's, so I'll just keep it simple. Talent + opportunity = fantasy potential.
VERDICT