Brandon Marshall, Antonio Brown, Marques Colston, Shannon Sharpe, Julian Edelman, Michael Turner, Darren Sproles, Pierre Garcon, Derrick Mason. All of these players were drafted in the 4th round or later and went on to become useful real life and fantasy players. There are plenty of people out there telling you why to draft Derrius Guice over Rashaad Penny (Guice is #2 in my dynasty rankings and Penny is #4). And if you want to hear the full break down of all rookie running backs and wide receivers, you can always go check out my podcast with @DonkeyTeeth87, Ditka, Sausage, and Fantasy Sports, hosted by Razzball, where we reviewed 21 rookie WRs and 18 rookie RBs.
Today though, I'm here to give you a list for the back end of your dynasty drafts. As the list at the start of the article shows, there can certainly be some hidden gems in the late rounds of the NFL draft and your dynasty start up. Let's uncover some stones like Cornelius and Maxwell from the old SNES game.
Jordan Wilkins
Colts – Round 5, Pick 32
While Nyheim Hines shoots up dynasty draft boards, I think it's Jordan Wilkins that you should be paying attention to in the Colts backfield if somebody is going to overtake Marlon Mack and become the lead back. Unlike Hines, who comes in at 5'8", 198 lbs., Wilkins has the size to become a feature back at 6'1", 216 lbs.  He does have the tendency to play a little smaller than his frame. There are times I want to see him be more assertive on the field and really fight for those last yards. He will also dance in the backfield at times, which he will have to adjust at the pro level.  In college, he showed the ability to shake defenders in the backfield, as well as, once he got out in the open. While his reads and patience weren't always ideal, it is more of a consistency issue than a lack of ability or understanding based on what I've seen. Shows good balance fighting through the line and taking on shoulder tackles.
J'Mon Moore
Packers – Round 4, Pick 33
J'Mon Moore reminds me of a less polished version of my top dynasty wide receiver, D.J. Moore.  Not that they have the same build necessarily, but that they play with similar ferocity. It's not only in route running and receiving that you see it. He also shows that aggressiveness once he gets the ball as he's always fighting for more yardage. He has good hands and grabs the ball away from his body. He fights back for the ball and can high point it well.
One of the sharper route runners that I saw in my film review of the rookie wideouts.  Has some really nice moves in and out of breaks, and at the line.
And if you're looking even deeper there in Packer country. I like Marquez Valdes-Scantling who is 6'4, 206 lbs. and ran a 4.37 40 yard dash. A bit raw, but going even later than J'Mon in rookie drafts. Plus, he was working out with MOSSSSSSSSSSSSSSS this summer.
John Kelly (Rams – Round 6, pick 2) and Chase Edmonds (Cardinals – Round 4, Pick 34)
Grouping these two together because I liked what I saw on film for both of these running backs more than guys drafted above them. They are both also stuck behind great running backs for their respective teams and will likely be backups barring injury.
John Kelly would be in my top 10 of rookie RBs if he wasn't in such a stifling situation. Todd Gurley signed a 4 year, $60 million ($45 guaranteed) contract and isn't going anywhere. Kelly did face a 1 game suspension for a weed charge, and that may have cost him some draft stock. That being said, I'm surprised he fell to the 6th round. He's an aggressive runner who won't slow down just because of some petty thing like a tackler is in his way. He's a scrapper who is always fighting for extra yardage
An undersized running back coming out of Fordham, he does occasional lose yardage running backwards or dancing around trying to make something happen, but his elusiveness made it fun to watch his film. He's stuck behind David Johnson, but at least there's some hope in sight for Chase. DJ is a free agent after this season, but it's hard to see the Cardinals letting him get away without at least franchising him for a couple years.  Despite being a little undersized, he shows really nice balance with the ability to run through arm tackles. And for what it's worth, Edmonds kneels after every touchdown. Maybe that says something about his character, or maybe it's just noise.
Jordan Lasley
Ravens – Round 5, Pick 25
If you had looked at the Ravens receiving core before free agency, you would've said there was a lot of opportunity to be had for a young wide receiver. However, after the signings of Michael Crabtree, Willie Snead, and John Brown, things have gotten a little more crowded in the passing game for Baltimore. Not to mention it's for a team that ranked 29th in passing yards per game and total passing yardage with the fewest passing plays over 20 yards in the league. So, how am I going to tell you to look at somebody on this team?
Well, I can tell you that because we're looking at guys at the end of your rookie drafts.  Lasley will certainly have to earn his way on the field, but has some things working for him. He showed good ability to get off of press coverage. He uses his hands well at the line and at the point of reception to create space. He has a good ability to locate the ball and adjust when it's off target.  There were a few suspensions in college, but if he can get the mental side of things together off the field, I believe he has the talent to force his way into some playing time.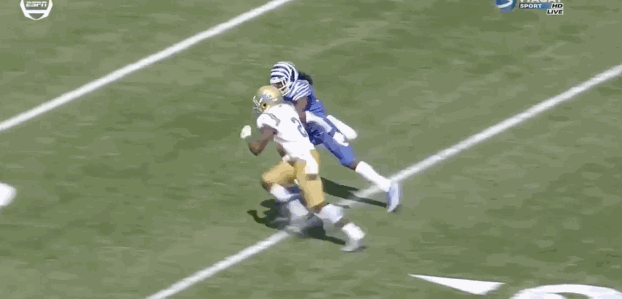 I didn't want the article to be too long, but I also like Antonio Callaway who is another talented player who had some problems off the field. Justin Watson who has the size and speed you're looking for in a receiver along with Penn smarts. And Keke Coutee who is a bit of a project, but is one of the quickest receivers in this class and could potentially make the team as a kick returner giving him the opportunity to find playing time on offense.
B_Don co-hosts the Ditka, Sausage, and Fantasy Sports podcast on Razzball. You can find him on Twitter @DitkaSausagePod.