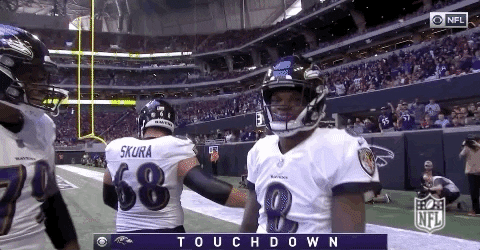 As the start of the regular season approaches fantasy football ADP becomes tight to the actual market. Everyone has had as much time to digest information and review preseason data as they will possibly get. The next two weekends will see a majority of the fantasy football drafts for the entire 2019 season completed. It's the time of year for proclamations, flag planting, decisions, "my guys", whatever your buzzword may be. In the months leading up to now a lot of the focus is on the idea of finding a few rounds of value prior to the ADP stabilization mentioned above for early drafts and best balls. Now it is about identifying the players that just you want to commit your season to. The following are the players that I am trying to come away with at least a piece of in nearly every standard roster PPR draft.
The NFFC is the home of the inaugural RazzBowl! If you're looking for a place to play high stakes fantasy football, look no further than the NFFC. Along with their innovative formats, the NFFC is the longest running high-stakes fantasy sports contest in the industry. It has awarded more than $53 million in prizes and will award $4 million+ more this year! Join the fun today.
Quarterback
Lamar Jackson – Much has been made of Jackson's inability to throw accurately. His completion percentage was only 5% lower than Baker Mayfield's while running an offense that was completely renovated over a bye week. The coaching staff has reiterated that Jackson will continue to run the football, and studies have shown that designed quarterback runs are not only safer than scrambles, but that "mobile" quarterbacks are hurt no more often than pocket passers. The Ravens start the season out with Miami, Arizona, and the Chiefs. Jackson will provide you a weekly floor, with the upside of a QB5 or better finish for the overall season.
Jared Goff –From weeks 1-12 Goff was QB7, from weeks 13-17 Goff was QB19, and we all witnessed what happened in the playoffs. Much of this regression has been attributed to the fact that defensive coordinators began to switch looks and coverages after Sean McVay's mic into Goff's helmet wouldshut off. I don't believe this to be the case. What changed was that Goff no longer had a slot weapon in Cooper Kupp, and he lost the ability to throw the football to his running back in Todd Gurley. Throwing the ball to the running back is one of the most efficient plays in football. The Rams not only return these players but add in an additional pass game weapon out of the backfield in Darrell Henderson. Goff has 3 wide receivers being drafted in the top 5 rounds in current ADP, more than any other quarterback. He is being drafted in the 9th round. He is primed to pay off.
Running Back
Baltimore Ravens Backfield – The Ravens ran the ball 45 times per game after Lamar Jackson was installed at quarterback. Assuming Lamar Jackson soaks up 10 of those per game, which would set an NFL record for a QB, even with less run game overall that leaves around 30 attempts per game for running backs. Mark Ingram is going to receive 15+ carries per game. They paid him. He is an efficient runner, and is behind an above average offensive line. Justice Hill has flashed all preseason. I expect over the season he will become an increasing presence with the 1st team offense and phase out Gus Edwards and Kenneth Dixon, who are currently free. Dixon was dinged up in preseason game 2, but has looked like the distinct current backup. They are all worth selections within your draft if it fits the model of your team, hold them until someone is cut, or until it is sorted out week 1. It will be worth it. I expect if Justice Hill receives even 10 touches per game in the second half of the season he will crush his value of a 12th round pick.
Latavius Murray – The Saints paid Murray more guaranteed money than Mark Ingram and an almost identical amount within the actual framework of the contract. The Saints are fluctuating back and forth as the odds on favorite to win the NFC. The Saints did not allow Drew Brees to throw even 500 times last year, and he is now 40 years old. The Saints have one of the best offensive lines in football. All this adds up to a lot of positive game scripts behind an outstanding line for a team that desires to run the football at an incredibly high rate. Murray, even in a slightly depleted role as the one Ingram held, will smash his 6th round value. If he just plays 40-45% of the snaps (expect some Alvin Kamara/Murray snaps together throughout games) he should approach 200 touches, which is a barrier only 20 running backs broke in 2018.
Wide Receivers
Tyler Boyd – Throughout the preseason the team has remained in 11 personnel on nearly every snap. This will benefit Boyd as he is highly effective in the slot and he will never leave the field. If AJ Green comes back healthy, or not, last year showed it is not going to effect Boyd's targets as he averaged nearly identical targets with Green as without. Tyler Eifert is currently not playing with the 1st team offense, as it is likely the team prefers CJ Uzomah's ability to stay in and pass block effectively. The offense is going to be centered around 3 players week in and week out when Green is active. Boyd's 16 game target pace last season was 123, which would place him in the top 15 among all NFL WRs. Boof already touched on just how often players hitting these milestones succeed here. The team may be downright awful, but it will not change Boyd's output for the year. Bad NFL teams still score points and expect the Bengals to do the same.
Cole Beasley – Beasley is currently undrafted in standard sized leagues. A very deceptive stat that has been thrown around consistently with Josh Allen is that he had the largest ADOT in the league last season at over 11 yards per. However, his average depth of completion was 6.5 yards which is the largest delta in the NFL amongst qualifying quarterbacks per NextGenStats. Allen still threw 60% of passes between 0-14 yards in the air per SharpFootballStats and was more accurate than the league average quarterback between 5-10 yards. This combination indicates that Allen is better at the throwing the ball underneath than the public is giving him credit for. I expect with OC Brian Daboll having a chance to progressively scheme in 2019 with improved overall talent. Beasley is going to be a major beneficiary of any underneath game with the expectation that often times the depth of the other receivers' routes will pull coverage deeper providing room to run.
Tight Ends
Vance McDonald – People are probably tired of me beating Vance's value to death, but he did not leave the field in the 2nd preseason game with the 1st team offense. Overall, solving the Steelers offense is going to be a significant piece to the 2019 fantasy season. I remain confident that James Washington will be a factor at some point, but Vance is going to get a huge portion of the targets, never leave the field, and has flashed ability in the past.