The first slate of preseason games typically leaves a small mark on fantasy draft rankings. A lot of the big names sit, and a lot of the action reinforces previous thought. However, there were some eye-raising moments throughout Week 1. Lamar Jackson looks primed to throw the ball with more frequency. Sam Darnold looks like he may develop into the star he was drafted to be. And Daniel Jones may very soon be the face of the National Football League after his pristine performance… or not.
But which events from the past week affected the fantasy universe?
Risers
David Montgomery
Boy, can this man run the football. He played incredibly well in his pro football debut against Carolina, rushing for a touchdown and making a meaningful contribution through the air. The great OTA reviews and Week 1 performance moved him up the draft boards.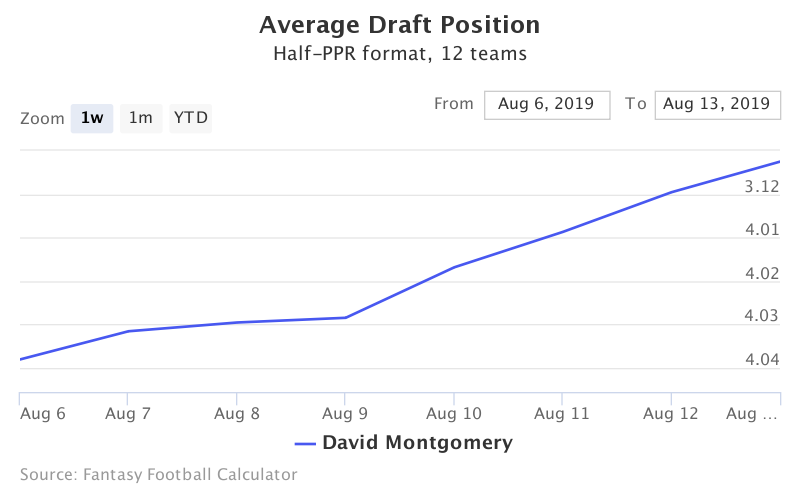 Buy/Sell ADP Rise: Buy!
There's a big time rookie running back every year, whether it's expected or not. Philip Lindsay and Saquon Barkley were the guys last year, Leonard Fournette was the guy the season prior, and even the massive bust Trent Richardson had his heyday with 11 touchdowns back in 2012. This year, it's going to be Montgomery. He is the guy. Forget about Tarik Cohen. Forget about Trubisky's MVP-hype (which shouldn't be a thing, really). Buy into Montgomery.
Miles Sanders
Can Penn State bring to premier backs into the league in two consecutive years? Everyone that's watched the Eagles at training camp seems to think so. He's seen a 13-pick rise in his ADP in the past week, building upon last week's rise.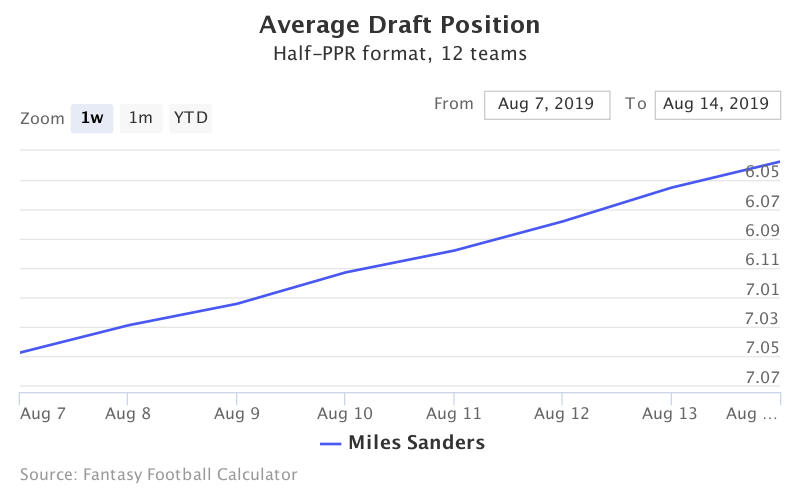 Buy/Sell ADP Rise: Sell!
I want to buy it. I really, really want to. But, even as diehard an Eagles fan that I may be, I still think that Jordan Howard will have a big role with the team in his first year, and I just can't see him completely fading away. And if I must reference how packed with talent the Philadelphia offense is, I will. Because that is a loaded offense with plenty of players that are hungry for fantasy points. I'm not looking away from Sanders in the sixth, but I'd feel much more comfortable drafting him if I knew he had a lead back role.
WOAH. What a colossal leap in what could be a colossal trade for the disgruntled running back's career. Johnson has leaped up three rounds on draft boards in his new Houston surroundings, and he will be dangerous alongside Deshaun Watson. His PPR upside should be even higher.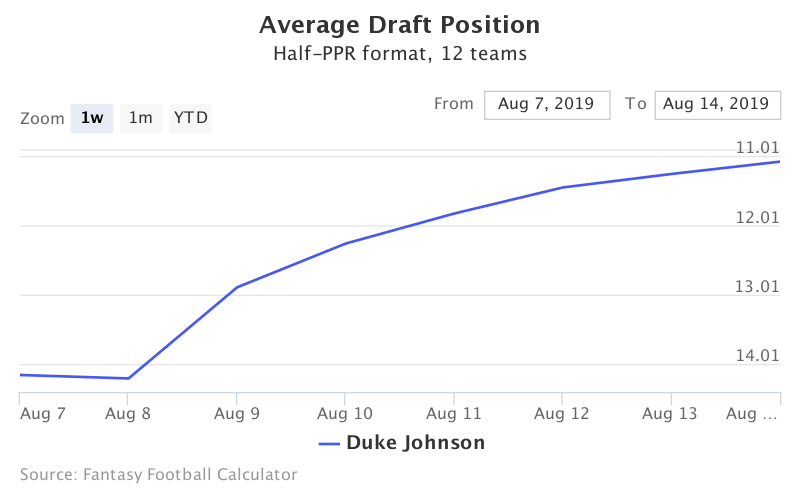 Buy/Sell ADP Rise: Buy!
Why not? DJJ can run, he can catch (especially well), and he should thrive in the creative Houston offense. The potential for options, screens, wheels, draws… it's through the roof. If DJJ is available in round 11, which he may be (it looks like the graph is starting to taper off), especially in a half or full PPR league, Johnson should be a steal and a reliable producer.
Fallers
Didn't see this one coming… maybe I should change my helmet. While Brown has threatened retirement over this issue, the frostbitten phenom is supposedly good to start the season. However, the news has taken him out of the first two rounds of fantasy drafts.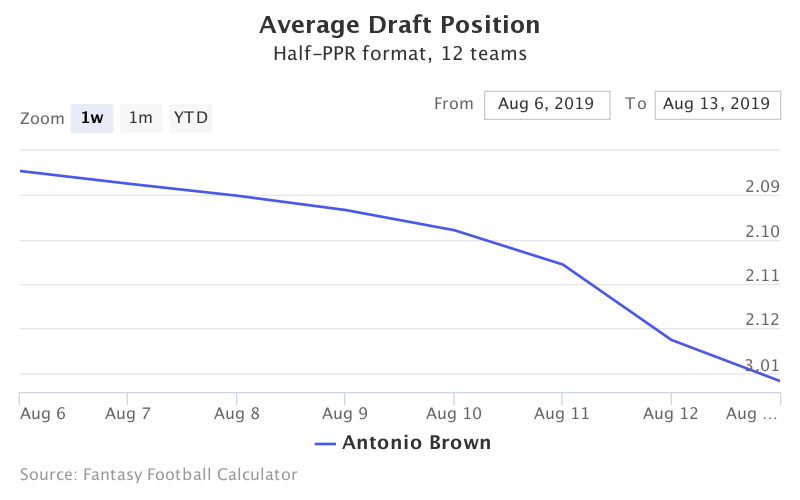 Buy/Sell ADP Drop: Sell!
If AB falls to the third round, you better be willing to take him. He's a premier talent, and while his attitude and antics may be a storyline throughout the season, he didn't seem to be affected my similarly distracting issues last season, leading the league with 15 receiving touchdowns amid chemistry problems with Big Ben. This year, Derek Carr is enthusiastic to play with AB, and I think his ADP will rise back up with the Hard Knocks hype building. So, I reemphasize that a third round value is a bargain for AB, who is a proven top talent and plays for a team that should have a very pass-happy gameflow.
Poor Andrew. It couldn't have happened to a nicer young man. But the calf injury that just won't go away has now mutated into a high ankle issue, and an additional bone injury officially puts his regular season prospects up in the air, though the Colts think highly of his chances. Over the last ten days, Luck has experienced a 17-spot dropoff. Seventeen. One-Seven.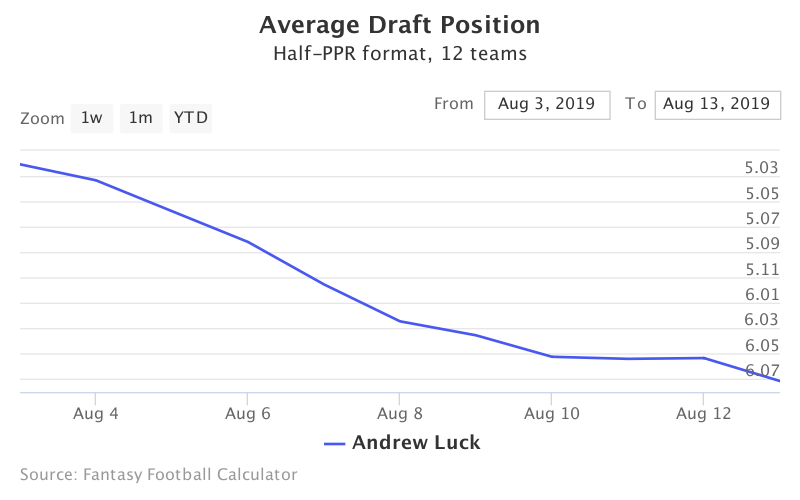 Buy/Sell ADP Drop: Buy!
Round six should be where a healthy Luck goes if a healthy Mahomes is going late in the third round. So the fact that he's injured and jeopardizing a position that you depend on for consistent production should have kept you away from him in the fifth round, and should still be cause for concern in the sixth. What's wrong with Phil Rivers and Drew Brees and Jared Goff? Why does Luck deserve to go over them, especially with all of this baggage?
A decrease in first team reps means a decrease in ADP. It seems pretty straight forward. Sony Michel's increased pass-catching ability and the lack of news surrounding his knee injury has also played a role in the fall in Harris's stock.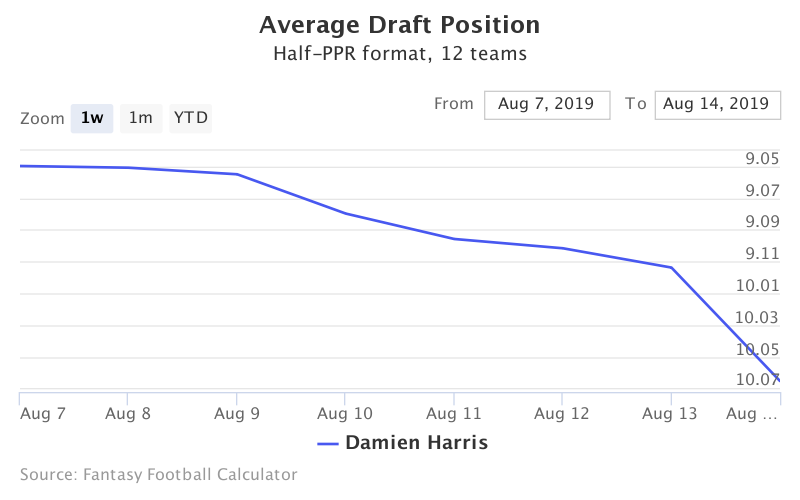 Buy/Sell ADP Drop: Buy, but Happily Accept the Drop
He's still a handcuff, and he's still a good person to draft given his upside in Belichick's offense. He's not seeing as many first team reps, but maybe that's simply because he's not going to be a first team player in the regular season with Michel and James White manning the backfield. Michel's knee is definitely still a factor, and if Harris takes over, he'll pay off in a big way, and round 10 is a good value for that upside.
Team Trends
Kansas City Backfield
Damien Williams has impressed with his elusiveness so far this preseason. No one's seen him anywhere, and he continued to dodge the defense by missing the Week 1 game against Cincinnati. In his absence, Carlos Hyde rumbled for a typical Hyde goal-line score, and Darwin Thompson ran well and had a long receiving TD. Because of how zoomed out this graphic is, here's a summary: Hyde rose 11 spots, Thompson nine, and Williams fell just one slot.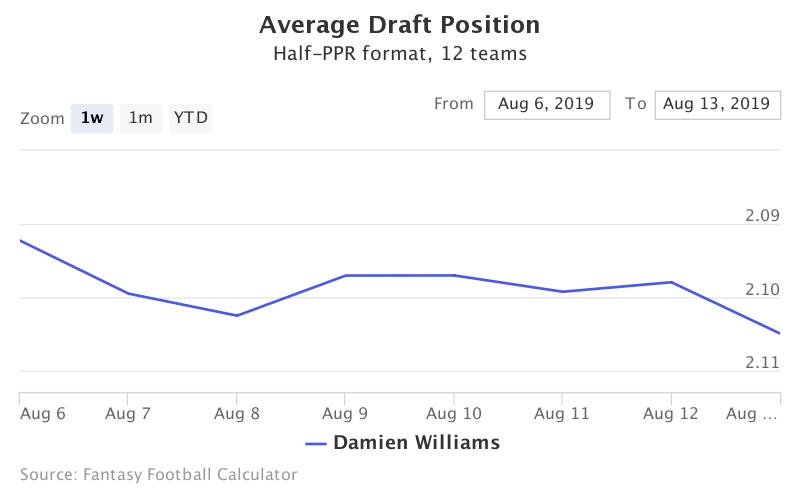 Buy/Sell ADP Trends: Buy…?
I buy Hyde and Thompson rising, but think that their ADPs should both be a couple of rounds higher. What really confuses me, though, is why Damien Williams is still a second-round pick despite the committee approach that Andy Reid has mentioned, the presence of injury issues already, and the continuous revolving door of Kansas City running backs that I've referred to ever since the Williams' hype began. He's not worth a second-round pick in my eyes.
Pittsburgh Receiving Corps
James Washington put on a show in the Steelers' preseason opener against the Bucs, recording 84 yards and a touchdown. Moncrief suffered a finger injury a couple weeks back, but there is a lot of positive buzz surrounding his role within the corps and his chemistry with Roethlisberger.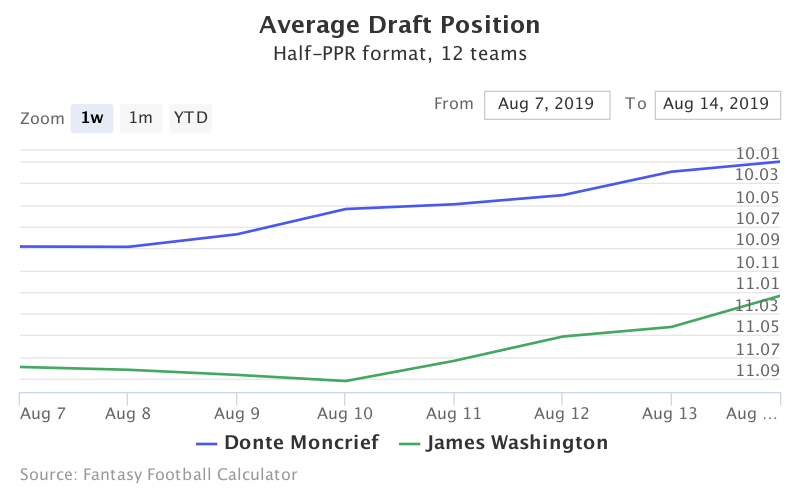 Buy/Sell ADP Trends: Buy!
I think it makes sense for there to be a dual rise in stock for the receiving options behind JuJu Smith-Schuster. It's going to be a matter of which one develops more chemistry with Roethlisberger, and I'd give that nod to Moncrief for now. Washington played very well, but didn't do so with Big Ben in Week 1. With JuJu and Vance McDonald already established in the Steelers offense, there is likely only one more solid option for fantasy production. With how late these two are going, it's worth a gamble.
Follow @jordancohn2 on Twitter for more fantasy football and basketball updates! 
All graphs taken from FantasyFootballCalculator.com (1/2 ppr) and all stats from Pro Football Reference.