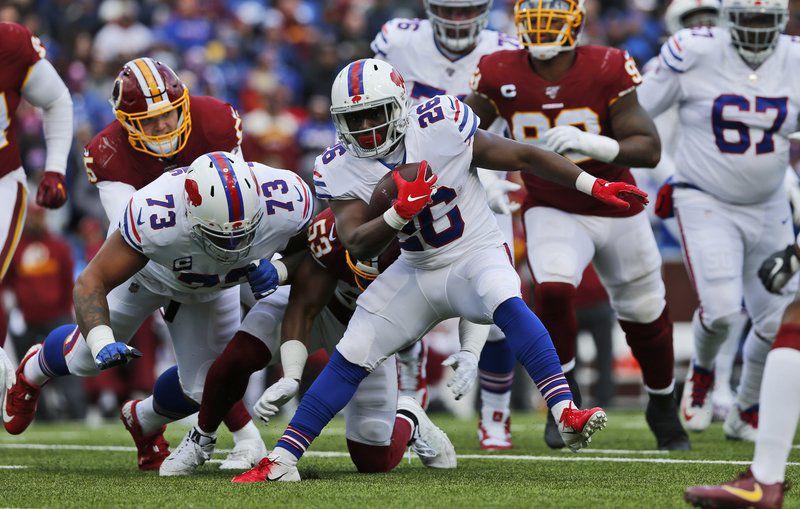 So I was out of town this past weekend and I was flying back Sunday in the late morning. As much as airports suck and flying in general can be a real drag, I've always enjoyed watching football while waiting for a flight. If I'm by myself I can enjoy my overpriced beer served by an antipathetic server while I overhear the most ridiculous conversations of the nearby tables. When I'm with a friend, it's just like being at a real bar, where shit talking reigns and wildly outrageous proclamations are never verified via cellphone. Watching football is one of the only saving graces of airports, and I for one, am thankful for it.
Now let's get to spending those Free Agent Acquisition Budget dollars! By this point in the season you should've spent some FAAB money so we're updating the amount we have at this point to $50; if you have more by all means add it to the dollar amounts listed here:
*All ownership as of November 4th
Wide Receivers:
$21 – DeVante Parker, MIA (36% Y!, 23% ESPN) Now the undisputed #1 in Miami, he's a WR3 going forward…just cross your fingers and hope he provides a solid floor (which he should).
$19 – Zach Pascal, IND (21% Y!, 7% ESPN) Saw a good amount of this game as it was on the TV directly in front of me, and I like what I saw. If TY is out for a while, Pascal is the next man up and I'm in on him.
$11 – Cole Beasley, BUF (29% Y!, 26% ESPN) He's already established himself as a consistent target of Allen and now has TDs in three straight. Real talk: Josh Allen is better than we thought and he's had solid outings with Frank Gore, Cole Beasley and John Brown as his top options for most of the season. Now that Singletary is back and playing well, maybe the Bills draft or sign a top WR to make their offense more dangerous next season and then Allen is my sleeper QB (Let's just hope the hype train doesn't pick up too much steam before next season).
$11 – Jamison Crowder, NYJ (54% Y!, 55% ESPN) I don't love him as I've said multiple times before, but he's getting targets and finally scored a TD, so there's that. Three big games out of eight isn't great, but better than a lot of what's out there. I have still not convinced myself to add him but I'm working on me; it's a self-help exercise.
$6 – Auden Tate, CIN (20% Y!, 24% ESPN) The other Tate has been targeted at least six times in all but one game this season. If he had three more TDs his ownership would be over 50%. Alas he does not. A match-up with Baltimore this week isn't rosy, but playing PIT, MIA, the Jets, CLE twice and OAK will yield some positive results down the stretch, especially in PPR leagues. I added him last week, what is taking you so long?
$4 – AJ Brown, TEN (19% Y!, 15% ESPN) Corey Davis is also available in a lot of leagues, but I like AJ best as he can fly and is coming off a solid game with Tannehill as QB. As much as I doubt that Tannehill will continue to be (this) good, why not ride it out?
$2 – Hunter Renfrow, OAK (2% Y!, 3% ESPN) Two TDs in back-to-back weeks makes him radar-worthy. Why he doesn't stay on my radar is the low targets (only three games with more than four; max eight) and the yardage, which is very low. A QB safety valve sometimes gets in the endzone, predicting him for any more than that is a risk I'm not taking.
$1 – Olabisi Johnson, MIN (3% Y!, 1% ESPN) Similar stat profile to Renfrow. More playing time possible with Thielen injury, so there's that. (He's Bisi Johnson in ESPN, if you can't find him). If we're comparing Johnsons, I'd rather have Diontae.
Running Backs:
$41 – Devin Singletary, BUF (73% Y!, 67% ESPN) If you've held him this long, you're more patient than me. If he isn't available in your league, well we're in the same boat. If he is available, spend most, if not all, of your money. He has skills and opportunity, along with a solid schedule the rest of the way.
$7 – Ronald Jones II, TB (40% Y!, 38% ESPN) How many times is he going to be on this list? Every other week at least. If you haven't dropped and added him multiple times are you really trying?
$6 – Adrian Peterson, WAS (56% Y!, 60% ESPN) I know we all dislike AD and the Redskins for a multitude of reasons, many valid. In terms on on field production though, not sure what more you want from an RB3/FLEX, he's established a 10-point floor. Another guy that if he had three more TDs would be owned in 40% more leagues.  A bye means you can't use him this week though.
$4 – Ty Montgomery, NYJ (2% Y!, 3% ESPN) Bell owners need to make the add; nothing in Ty's history points to him being a worthwhile or long-term add.
$3 – Kalen Ballage, MIA (9% Y!, 9% ESPN) Due to Walton's suspension only. Dive in at your own risk.
$1 – JD McKissic, DET (12% Y!, 6% ESPN) PPR leaguers, if you need the help, take a chance. Ty Johnson is an add for deeper, non-PPR, leagues, too.
Tight Ends:
$5 – Darren Fells, HOU (61% Y!, 37% ESPN) Like him more Rest-of-Season than the next two guys, though he's on a bye this week.
$3 – Noah Fant, DEN (12% Y!, 8% ESPN) Big game Sunday but only three catches; he's also on a bye this week, so you need the room to add him. For more immediate help, look to Kyle Rudolph or Mike Gesicki or Jacob Hollister even.
$2 – Dallas Goedert, PHI (26% Y!, 39% ESPN) Finally Ertz got going, at Goedert's expense you would suspect. But not really; Goedert has only been targeted more than five times once (eight), and has three TDs. So let's not put Ertz out to pasture yet. Also of note is the Eagles have a bye in Week 10 followed by the Patriots.
$1 Defenses: BAL @ CIN (pay $3 for them this week if really needed), NO vs ATL, IND vs MIA, KC @ TEN , DET @ CHI
Exercise Time! Starting with $100 week one, these are the guys I've already won this season:
Week 2: Terry McLaurin ($26), Josh Allen ($3) and Golden Tate ($4)
Week 3: Demarcus Robinson for $19, Deebo Samuel for $7 and Ten D for $1
Week 4: Jamaal Williams for $12, Parris Campbell for $2
Week 5: Nada
Week 6: Vance McDonald for $3
Week 7: New Orleans D for $1
Week 8: Seattle D for $1, Alex Mattison for $3, Derrius Guice $1
Week 9: Auden Tate for $4
With $13 left, there are two ways to go. Save for $1 (or $2) Defenses the rest of the way, or go all in on a guy. I'd love to add Pascal, but he's too much this week. So I'm going to go $3 on Baltimore D. See how that goes.
I skipped QBs completely since Ryan Tannehill, Brian Hoyer, Jimmy G, Derek Carr, Brandon Allen, Nick Foles, Ryan Fitzpatrick, et al, stink to some varying degree. That degree is not worth the paper its printed on. So add them as you would, but I wouldn't pay more than $3 for any, and even that is stretching it. As always, if there is a guy I missed bring them up in the comments and I'll give them a price. Enjoy the games Razzballers and Razzballettes!