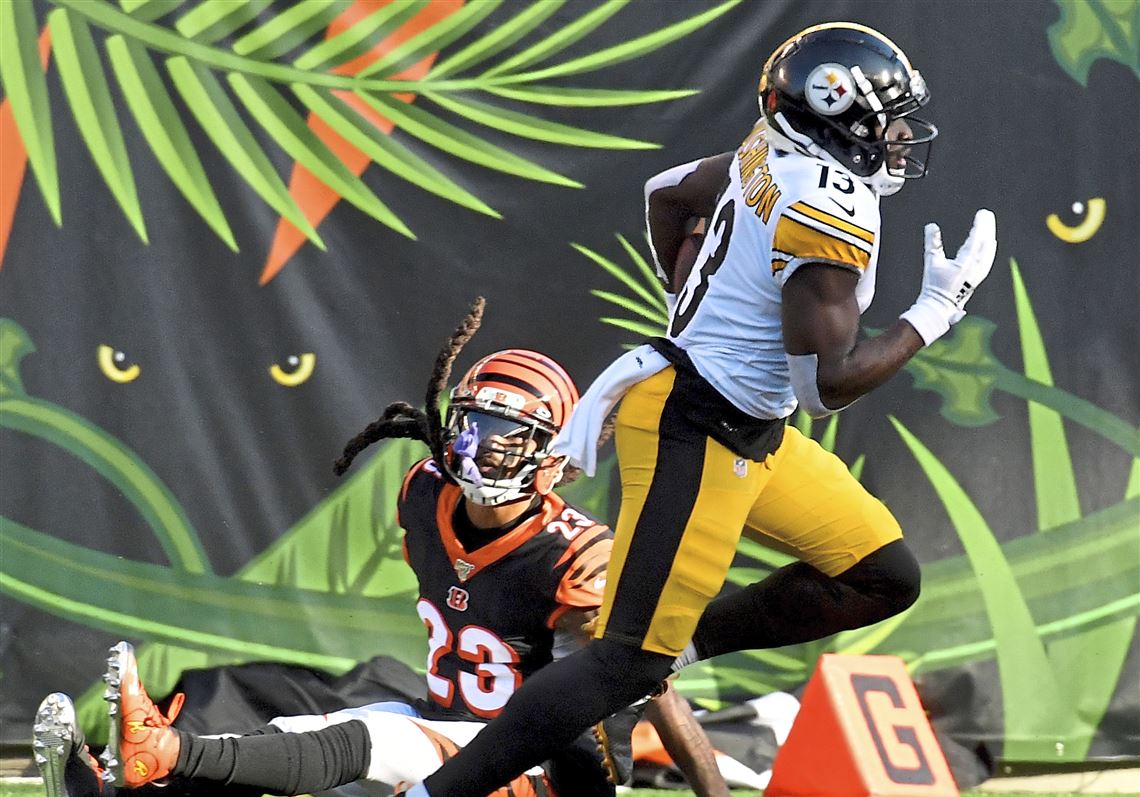 The running back stash/wheel of death continues this week; I'm sensing a trend, maybe you've noticed? Early weeks, wide receivers were the dominant adds; now, its survival of the fittest running backs. So there are three wideouts I'd bid on this week and a bunch of RBs that may or may not help. Some should've been added prior weeks. There are even a couple of Tight Ends, which if you've been reading has been really tough to pin down which TE will hit each week.
There are no QBs to add this week, if you're playing the QB carousel at this point and are in the playoff hunt you know what to do in that regard (If you want/need Darnold or Tannehill, etc. bid on them fo sho). By this point in the season you should've spent some FAAB money so we're updating the amount we have at this point to $25; if you have more, by all means, add it to the dollar amounts listed here:
Wide Receivers:
$15 – Deebo Samuels, SF In competitive WR3+ leagues, he should be owned. I'm starting him in a couple two WR leagues, so you know I have faith. The time to add him was weeks ago (or if you're like me after Week 3; seriously, see below) but there's no time like the present. It's not Friday, and I do have a job, so what to do? Add Deebo; don't make me say it twice.
$14 – James Washington PIT Sometimes you need to toot your own horn, so I'm going to do that here. Wasn't feeling great about Brandin Cooks as my WR3, and saw Big Game James just chilling out there on waivers, and at 9:50 I made the add (didn't cut Cooks by the way) and the rest is history.
$6 – AJ Brown, TEN This guy needs to chill so he can be my sleeper next year. I've been tooting his horn so long…yeah that was about to go horribly wrong. Let's just say I'm a big fan and move on.
Running Backs:
$22 – Jonathan Williams, IND He's the guy until Mack comes back, and that might not be until next year.
$16 – Benny Snell, PIT He's the guy until Conner comes back, and that might not be until next year.
$14 – Bo Scarbrough, DET He's the guy…for now. Looked good on Sunday, so why not?
$5 – Rashaad Penny, SEA Fool me once, can't get fooled again is a great Who & George Bush mashup. Carson is still a beast yet still fumbles; Carroll doesn't give up on his RBs easily but Penny took the game over on Sunday. I still can't see a way he starts for any of my fake teams (yet) thus the low price.
$4 – Patrick Laird, MIA I want no part of Miami's RBs this year, but some leagues are much deeper than others.
Tight Ends:
$6 – Dallas Goedert, PHI He's as good as a WR3 with upside; if you're looking for more out of your waiver wire TEs you're asking too much.
$4 – Mike Gesicki, MIA He's another sleeper for next year that can still be helpful this season.
$4 – Ryan Griffin, NYJ The man at TE for the Jets (Chris Herndon who?)…are you not entertained?
$1 Defenses: Even though GB had a rough outing vs the 49ers this past week, I like their upcoming schedule of @NYG thenhome vs WAS and CHI. Sneaky. The Chargers at DEN could be a snow game then they go to JAX.
Exercise Time! Starting with $100 week one, these are the guys I've already won this season:
Week 2: Terry McLaurin ($26), Josh Allen ($3) and Golden Tate ($4)
Week 3: Demarcus Robinson for $19, Deebo Samuel for $7 and Ten D for $1
Week 4: Jamaal Williams for $12, Parris Campbell for $2
Week 5: Nada
Week 6: Vance McDonald for $3
Week 7: New Orleans D for $1
Week 8: Seattle D for $1, Alex Mattison for $3, Derrius Guice $1
Week 9: Auden Tate for $4
Week 10: Baltimore D for $3
Week 11: Nada, as no league I'm in Brian Hill went for less than $10.
Week 12: Williams didn't go for less than $10 (my max bid) in any leagues, so I "won" Wilkins with a $3 bid and then he did nothing on Sunday. We're no longer on speaking terms.
With $7 left I'll go all-in on Washington, Scarbrough, and then Snell. As always, if there is a guy I missed bring them up in the comments and I'll give them a price. Enjoy the games Razzballers and Razzballettes!